Decorative Brand Impact Highlighted in New NAPCO Research "Adding Value to Print" Report
Melbourne, Fla. – MGI and Konica Minolta Business Solutions, U.S.A., Inc. presented a complete spectrum of JETvarnish 3D and Accurio digital packaging and label solutions at the 2019 Digital Packaging Summit held in Ponte Vedra Beach, FL from November 11th – 13th. The annual elite industry education event hosted top executives of print service providers from all market segments of the industry, including the Folding Carton, Label, Flexible and Corrugated application arenas.

A special 40 page event guide produced by MGI and Konica Minolta for the occasion provided a "decorative digital print tech" experience for all attendees and served to introduce the comprehensive portfolio of their shared JETvarnish 3D and Accurio packaging and label solutions. The booklet was digitally printed on an AccurioPress C6100 toner press with IQ-501 intelligent color management optimization. It was then embellished on a JETvarnish 3D S inkjet enhancement press with 2D flat spot UV highlights overlaid with clear rainbow hologram foil from Crown Roll Leaf and 3D dimensional textures across a blue-tinted panoramic landscape photo image.
Digital Packaging Opportunities to Communicate Brand Value
The exclusive invitation-only annual event is the premier learning forum for analyzing technology trends, print buyer perspectives, brand print production priorities and consumer purchasing influences in the consolidated packaging and label industries. The educational program featured top analysts and packaging experts such as Marco Boer, IT Strategies and Kevin Karstedt, Karstedt Partners, and is produced by Packaging Impressions Magazine and NAPCO Media.

An important industry briefing session titled "Digital Package Printing: The Time is Now!" was led by NAPCO Research Vice President Nathan Safran, who shared some insights and survey data from the forthcoming "Adding Value to Digital Print" market research study that concluded digital sensory print embellishments were an accelerating business trend and revenue growth opportunity for printers to both increase their profit margins and strengthen their client brand relationships. Survey data was collected from 400 Printers and 400 Print Buyers (Brands) in the new report to assess and evaluate market technology trends and service provider growth dynamics.
JETvarnish 3D & Accurio Packaging & Label Applications
Together, MGI and Konica Minolta presented samples and customer success stories from their extensive Industrial Print portfolio of packaging and label product lines. From rapid prototyping to mass production, on sheets and rolls, the global partners have assembled a solution set for printers, trade finishers and converters of every size and business profile. In addition, the applications supported by the various JETvarnish 3D and Accurio digital presses include all main categories of folding carton, labels, flexible and corrugated operations, as well as retail signage and merchandising displays.

Chris Curran, NAPCO Media Executive Vice President, commented "Our goal for the Digital Packaging Summit is to create an educational environment of information, discussion and ideas for the top printers and vendors in the marketplace. The shared sense of purpose of everyone who participates is to collaboratively move the industry forward via digital print production technologies and new engagement strategies with the brands and agencies who buy package and label services."
"We were delighted to have MGI and Konica Minolta participate and help support that vision of future market growth with their JETvarnish 3D and Accurio solutions."

Kevin Abergel, MGI Vice President of Marketing & Sales, stated, "The JETvarnish 3D Series empowers printers to create highly profitable new services by offering competitive differentiation for brands with unique high-impact decorative and dimensional special effects. Our presses can elevate output from digital sheet sizes all the way up to full-sheet B1+ offset litho presses."
"For roll-based applications, we can enrich digital or flexo color printing for applications from wine labels to shrink sleeves to laminated film pouches and tubes. We had several customers attend the Summit this year and it was a great success."

Erik Holdo, Konica Minolta Vice President of Graphic Communications & Industrial Print, added, "Within our Accurio and JETvarnish 3D portfolio of hardware products, we also have a set of digital packaging software and brand marketing solutions for printers and converters that range from augmented reality (AR) campaigns and 3D design modeling tools to printing job management, workflow automation and web-to-print e-commerce applications."
"Our mission is to empower client relationships and optimize print production operations with digital communications based on both data and ink. The Digital Packaging Summit is an ideal venue to work with industry leaders to explore new strategies and technologies."

Dino Pagliarello, Konica Minolta Vice President of Product Management and Planning, summarized, "Konica Minolta and MGI have made a deep digital product commitment to the packaging and label print sectors. In the last year alone, we've released the new AccurioWide 200 and 160 presses for signs and displays, the AccurioLabel 230 press, the Precision PLS-475i label printer, and the Precision PKG-675i corrugated box press. In addition, we've enhanced the AccurioPress line and the AccurioJET KM-1 inkjet press."
"With the JETvarnish 3D Series of embellishment presses, we have points of entry for digital printing and finishing across the entire spectrum of packaging and label market applications. The Summit is a place where industry leaders gather to map the future. We were glad to contribute to the discussions."

For more information, please visit www.mgiusa.com and www.konicaminolta.com. Follow MGI on Facebook @MGIonline and Twitter @MGI_USA for the latest printing industry technology news. Follow Konica Minolta on Facebook, YouTube, and Twitter @konicaminoltaus.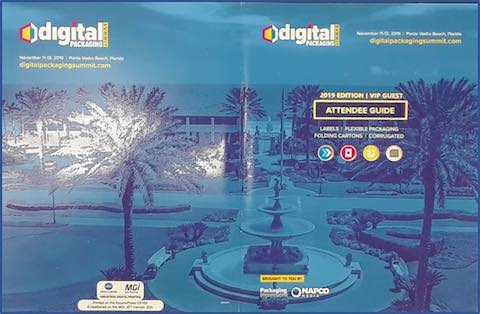 2019 Digital Packaging Summit Event Guide