West Chester, Ohio – At Brand United University, collocated with the recent PRINTING United show in Dallas, Texas, Color-Logic joined Scodix, Highcon, and MGI foiling to present graphic designers and ad agency personnel with the latest enhancement opportunities in print advertising and packaging. Color-Logic Director of Sales and Marketing Mark Geeves explained how Color-Logic offers foolproof, consistent metallics, as well as extended color gamut software and a broad selection of patterns. Currently available embellishments were the subject of the panel discussion conducted by Trish Witkowski of Foldfactory.
Commenting on the discussion, Color-Logic's Mark Geeves said: "Print communications today can be made more attractive in many ways, and the growth of digital printing puts many new tools in the hands of graphic designers. We were pleased to be able to show several of our latest software tools to the design community at the conference."
For more information, visit www.color-logic.com or call +1-513-258-0047.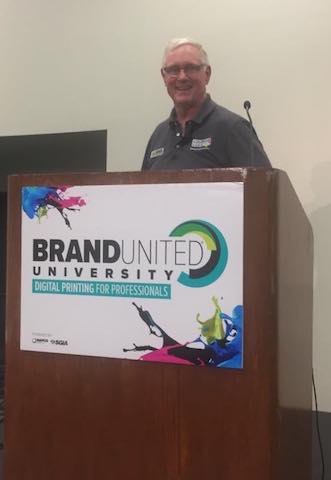 Color-Logic 's Mark Geeves at BrandUnited University.