Nashville, Tenn. – OnPoint Manufacturing, Inc., an innovative leader in on-demand personalized apparel manufacturing, announced today its partnership with Kornit Digital, a leader in digital textile printing solutions.
The partnership, which includes the addition of a Kornit Presto printer to OnPoint's manufacturing facility in Florence, Ala., is the next phase toward complete optimization of end-to-end, on-demand manufacturing. The Kornit Presto is the most advanced single-step solution for direct-to-fabric printing. Its remarkable speed, coupled with its completely dry printing process which requires no water, makes the Presto efficient and environmentally friendly. The Presto printer is part of a larger strategic partnership between OnPoint and Kornit that includes potential expansion opportunities in future manufacturing facilities.
"Our goal has always been to have a total inline system where we could go from direct-to-print to direct-to-manufacturing," said J. Kirby Best, CEO of OnPoint Manufacturing. "The Kornit Presto is the first direct-to-fabric printer we've seen that doesn't sacrifice quality for speed. This is a powerhouse of a printer that will keep up with demand and will connect seamlessly with our new Gerber Z1 cutter creating an unrivaled system in the on-demand manufacturing world."
Using Kornit's proprietary single-step print process using Fixation on the Fly (FOF) and the NeoPigment™ Robusto ink set, a 2019 SGIA Product of the Year, Presto is the most efficient, eco-friendly solution for digital pigment-based printing, with a small production footprint befitting both microfactory and distributed production models. Users can print to a broad array of fabrics using a single system, with minimal setup time and labor.
"No single digital textile print system can match Presto's combination of speed, graphic detail, handfeel, wash and rub fastness, and waste-free sustainability," said Don Whaley, VP of Sales for Kornit Digital Americas. "This technology offers creators the capability to bring their creations to life, with an eco-responsible, efficient, and versatile process. We're proud to partner with OnPoint and give their customers the highest print quality available today."
OnPoint's on-demand manufacturing model is the most efficient and environmentally friendly model today delivering exceptional value and quality to its customers. With the integration of the Kornit Presto, OnPoint can provide another level of personalized on-demand manufacturing. OnPoint's streamlined inline production system improves lead time, reduces costs, and reduces errors and waste. OnPoint is also focused on the further development of software-to-software communication to improve these efficiencies to get from creator to consumer more quickly.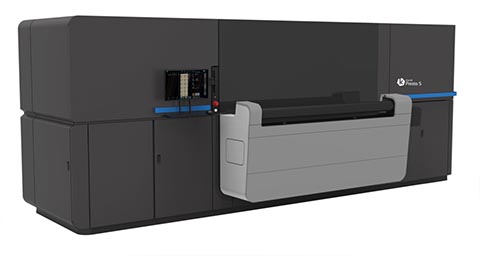 Kornit Presto. Photo courtesy of Kornit Digital.