Kansas City – Infinity Foils, Incorporated, a member company of the UEI Group, proudly unveils its NEW Foil Selection Guide.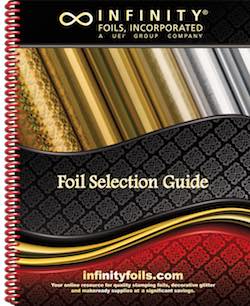 This Foil Selection Guide is our largest guide to date with its expanded foil shade range and increased product offering. It is also the industry's most compressive shade guide, including foils for hot, cold or digital applications. Additionally, Infinity® Foils has added to its already stellar line, new shades and grades formulated to work on the broadest range of applications for precision and reliability.
Never before has there been a foil shade selection guide book like this. Infinity has designed their new Foil Selection Guide around both the end user and specifier. "Our team wanted this Foil Selection Guide to speak to both designers and the printers/finishers. It's shade centric and it's so easy to use and follow, that it makes the communication between the design community and the printers/finishers better streamlined", said Jim Hutchison, President of Infinity® Foils, Inc.
Included in this special industry resource guide are Infinity Foil's coveted shade cross-reference charts; providing comprehensive industry shade matching tools for Infinity Foil's foil shades. It also includes convenient foil tear tabs, perfect for specifying the right Infinity® Foils' foil shade, so that to further enhance clear communication between design and production of the project.
Infinity Foils, Incorporated is a worldwide supplier of quality stamping foils, decorative glitter and makeready supplies. As a member company of the UEI Group, Infinity® Foils, Inc. shares in leading technology and state-of-the-art processes so that their product offerings always include the most advanced for the industries they serve.
Infinity Foils, Inc's foil products are sold conveniently online 24/7 and without minimums. For more information or to request an Infinity Foils' NEW Foil Selection Guide visit www.infinityfoils.com or call +1.877.932.3645 or +1.913.888.7340.