Even though the franchise works with major corporations, much of its focus involves working with local companies.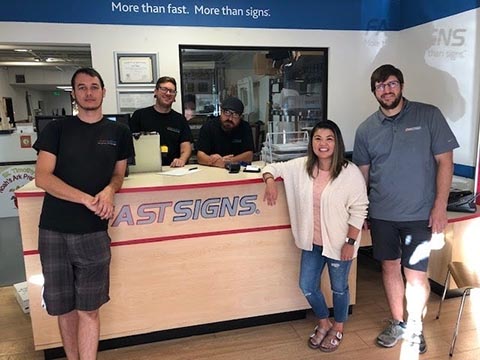 The team at FastSigns of San Ramon (from left): Gregg Drake, Joe Earnest, Brian Quinonez, Abbie Ong and Clayton Palamino.
FASTSIGNS® of San Ramon, a local sign and visual graphics company, is celebrating 30 years in business in San Ramon this year. In addition, Wade Luckhardt, franchisee at FASTSIGNS of San Ramon is entering his 15th anniversary year. Luckhardt has served on the Board of Directors of both the Danville & San Ramon Chambers of Commerce. During this year, he is also the Chair of the Board for the San Ramon Chamber of Commerce.
"We wanted to get involved in owning a local business. As we looked for a business to business opportunity, a franchise was the logical step," said Wade Luckhardt. "We liked the corporate support and organized process of the franchise model. With the additional strength of an experienced staff in that particular location, we knew this was a perfect fit for us 15 years ago."
During his time with FASTSIGNS, Luckhardt has seen tremendous changes in the way signs are designed. In addition to advancement in design, production technology and capabilities, the center now has two eco-solvent printers for full-color digital printing. The center has also seen growth through the use of their of computer-aided routing and engraving equipment.
Over time, the team at FASTSIGNS of San Ramon has taken on projects of all sizes and they've expanded in their "More Than" approach to signs by completing full business property signage which includes everything from door signs to window lettering, large monuments at entrances and comprehensive building identification solutions.
"You're only as strong as your people. Treating your people right and giving them responsibility allows you to do what you do best," said Luckhardt. "We have been blessed with a senior staff, and a few have been with us since the beginning. A strong staff gives you the ability to try new things and expand your product offerings to the customers. People are the most important thing as well as making sure you satisfy your customer needs which is something we've focused on."
Even though they work with major corporations, much of the center's focus involves working with local companies as they start, grow and expand their business. As they move forward, Luckhardt and his team will continue to focus on the needs and changes in the industry in terms of visual communication, addressing their customer needs and focusing on doing what they do best.