Retail Services Provider Realizes Cost Savings, High Throughput and Sharp Text
Elmwood Park, N.J. – GSP, the leading provider of retail services in North America, has installed Agfa's Jeti Tauro LED line of high production UV inkjet engines in its plants in Utah and Florida.
The award-winning Jeti Tauro H3300 and H2500i LED presses proved a natural fit for GSP's multiple shifts, 24/7 environment.
"The Jeti Tauro LED printers demonstrated impressive throughput, low ink consumption, and thin ink lay down," stated Elaine Scrima, Vice President of Operations at GSP. "The increased clarity and ability to read fine text impressed our discerning account team."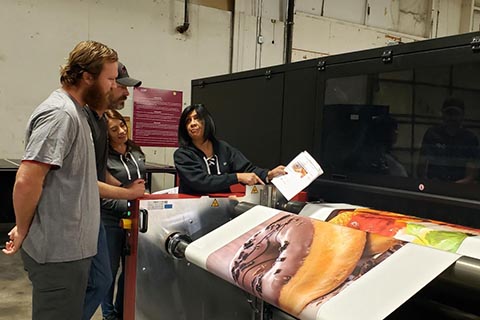 Marvin Van Beuge (Utah Plant Manager), James Lewis (Print Production Manager), Marcela Barrera (Digital Supervisor), Graciela Joauven (Digital Operator).
Its Provo, Utah, facility installed three heavy-duty Jeti Tauro H3300 LED presses; one manual roll-to-roll and two master roll-to-roll configurations for either single- or dual-roll printing to achieve unattended, long-run print jobs at exceptional speeds.
The company added two Jeti Tauro H3300 LEDs (with master roll-to-roll and manual roll-to-roll capabilities) along with a Jeti Tauro H2500i LED at its Clearwater, FL, site.
"GSP is thrilled to enter into a strategic partnership with longtime industry leader, Agfa," said Scrima. "Exceeding customer expectations is a priority for GSP. The addition of Jeti Tauro LED printers enables us to deliver even faster turn times and enhanced quality."
The hybrid family of Jeti Tauro LEDs combine vivid, six-color prints plus white or primer, with fine text quality at 4 point type and offer extreme productivity, low-ink consumption, and outstanding graphics. Agfa's wide-format workflow software Asanti drives the Jeti Tauro UV inkjet printer line, which simplifies and automates production.
Due to the high pigment load of Agfa-made inks and Asanti's ink saving algorithms, ink consumption per square meter is the lowest on the market. The result is an ideal balance between image quality, productivity, and cost of ownership.
The Tauro H3300 LED's vivid, detailed images offer outstanding resolution of 635 x 1200 dpi in all print modes, output at extraordinary speeds up to 4,676 ft²/h (453 m2/h) with prints up to 130 inches wide (3.3 m). The robust, hybrid Jeti Tauro H2500i LED offers print speeds up to 2,960 ft2/h (275 m2/h) with output up to 98 inches (2.54 m) wide.
GSP's mission is to help its customers increase revenue, reduce costs, and streamline communication while meeting their sustainability mandates. The Clearwater, FL-based company offers end-to-end retail solutions and services across all channels to make business better for its customers.
About GSP
Now celebrating 41 years of business, GSP is a retail services provider located in Clearwater, Florida, with three regional production facilities (Clearwater; Provo, Utah; and Madison, Wisconsin). By using surveys and a proprietary software system, GSP helps retailers accurately measure and store site data, guaranteeing the right size sign is delivered to the right store every time with no overage. GSP offers award-winning marketing, design services, visual merchandising, food photography, best-in-class graphics and smart POP program management to more than 60,000 retail locations throughout North America. Recent growth led GSP to add AccuStore®, a survey, app and site profiling software brand, and the large-format graphics lab Great Big Pictures, which specializes in fashion retail. For more information, visit www.gspretail.com.
Agfa, a Platinum sponsor of PRINTING United, will be located in booth #8242. The show is being held at the Kay Bailey Hutchison Convention Center in Dallas, TX, from Wednesday, October 23rd to Friday, October 25th, 2019. For more information visit https://www.printingunited.com.