Hanover Park, Ill. – FUJIFILM North America Corporation, Graphic Systems Division to showcase an impressive line-up of new and innovative inkjet solutions at PRINTING United, October 23 – 25, 2019, in booth 8220 at the Kay Bailey Hutchison Convention Center, in Dallas, Texas.
Industry-leading inkjet technology in Fujifilm booth 8220 will include:
J Press 750S
Awarded SGIA Product of the Year 2019 – Digital Press, the new J Press 750S addresses today's print market's challenges with shorter run lengths, increased variable data work and immediate turn around expectations. The J Press 750S is the fastest full-color B2 production digital inkjet press on the market. Additionally, Idealliance recently announced the J Press 750S obtained the Digital Press Inkjet System Certification and ISO/PAS 15339 System Certification; and raised the bar in earning Master Elite status capable of achieving all seven of the globally recognized ISO/PAS 15339 Reference Print Conditions. "Fujifilm's J Press 750S is one of only two presses to ever reach this level of certification achievement; the other is Fujifilm's J Press 720S," said Ed Pierce, product marketing manager, FUJIFILM North America Corporation, Graphic Systems Division. Offering press speeds of 3,600 sheets per hour, for both static and variable jobs, and featuring a larger sheet size of 23" x 29.5" and better than offset quality, the J Press 750S has become a print provider's solution.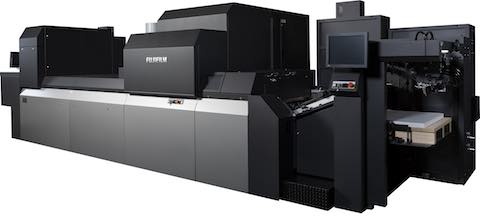 OnsetX3 HS with ¾ automation – making its global debut at PRINTING United
Today's retail segment print providers are experiencing the "need for speed" expectations. The Inca OnsetX3 HS, the world's fastest high-quality flatbed printer, capable of printing in excess of 15,500 square feet per hour (283 beds/hour) is the retail segment solution. Its three sets of CMYK ink channels plus the choice of white or orange, allows print businesses and entrepreneurs the capacity, capability and flexibility to grow market share and confidently move into new segments. The powerful and market-leading OnsetX flatbed series now includes a range of enhancements that result in much higher print speeds and machine utilization, and therefore higher productivity. Compatible with Inca's range of application specific robotic handling systems, and incorporating '30 second' job set up and 'single cycle' printing mode, the new HS range is set to deliver another 'step change' in high volume wide format inkjet printing – something Inca Digital and Fujifilm have become renowned for over the years. Combined with Fujifilm's Uvijet OX ink, the OnsetX HS creates competitive advantage for Fujifilm's customers.