GEW @ Stand A6:650, InPrint Munich
GEW will display its proven range of arc lamp and LED UV curing systems at InPrint 2019 in Munich. GEW UV systems are robust, versatile, and are widely used for applications in the inkjet and industrial printing industries. Systems are available for printing and coating applications, in widths from 10cm up to 2.5m from a single lamp.
GEW's LED UV curing solutions are specifically designed with demanding industrial applications in mind, and the company will highlight its new LeoLED UV curing system to the market at InPrint.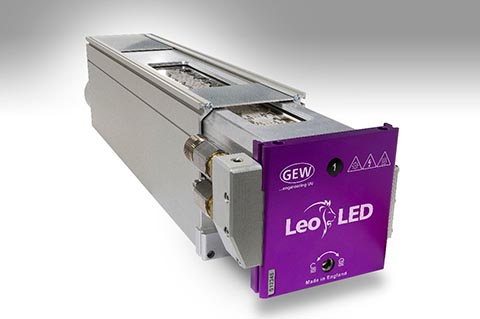 GEW LeoLED UV Curing System
LeoLED represents the next generation for LED UV curing and is set to have a significant impact in this highly competitive market. In LeoLED, the technology has been redesigned and refined for simplicity and offers excellent value, while at the same time delivering maximum power and dose of UV energy. The LeoLED cassette is fully compatible with GEW's ArcLED hybrid system and brings LED UV within affordable reach for all.
The leading-edge design of LeoLED brings several new benefits: the 50mm width window gives a long dwell time and is waterproof-sealed for easy cleaning. It is also resilient to dust and ink ingress. The LED array delivers electrical power at an impressive 88W/cm and an intensity of 25W/cm2, with minimal light loss due to the direct UV path. Furthermore, the integral water-cooling system gives LeoLED the ultimate operating capability and reliability in its class.
The new lamphead is built to GEW's usual exacting standards, using state-of-the-art manufacturing techniques, for robust performance and reliability. It is also offered in an alternative, more compact configuration for very confined spaces, and for sheetfed offset presses. All formats can be easily retrofitted to almost any press.
GEW will also feature its renowned NUVA2 arc lamp UV system, which is engineered for efficiency and low maintenance. Active air-cooling and optically tuned reflectors maximise the lamps' curing effect while at the same time reducing heat radiation onto the substrate. In any UV curing installation the NUVA2 and the associated RHINO power supply achieve accelerated production speeds, increased uptime and energy savings of up to 50%.
Visit GEW at Stand A6:650

www.gewuv.com