Matthews, N.C. – Fisher Textiles, the leading supplier of fabric for digital printing, is pleased to present UV2610 Tango ® , the newest backlit framing systems fabric for UV-curable and latex printing.
Winner of the SGIA 2019 Product of the Year Award for TextileMedia-Framing Systems (Backlit), UV2610 Tango ® is an excellent backlit fabric because of its ability to evenly disperse light and promote printed vibrancy of color and detail when illuminated.
It has a tight base structure for the perfect amount of opacity in framing systems and equal stretch (1.25%) to enable a smooth, tight fit. Tango ® graphics stand out and command attention. Other noteworthy features are its excellent durability and tear strength for long lasting use. It has a bright white point and quick dry time. This fabric is stocked 122 inches wide, weighs 5.2 oz/yd 2 and is flame retardant.
See this fabric in action at the Fisher Textiles booth 8033 during PRINTING United in Dallas, October 23-25.
For more information, contact Fisher Textiles at 800-554-8886 or visit fishertextiles.com.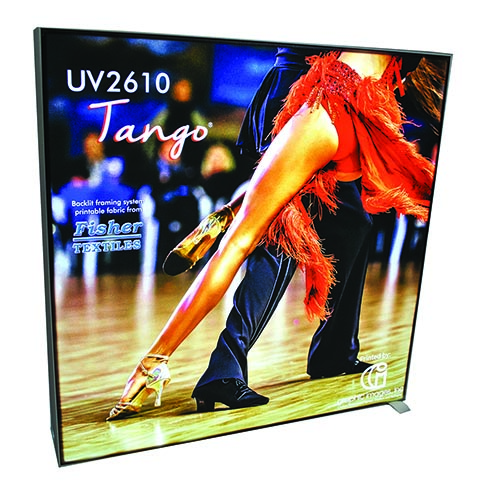 Fisher Textiles' SGIA 2019 Product of the Year Award-Winning fabric, UV2610 Tango ® printed by Graphic Images Inc.