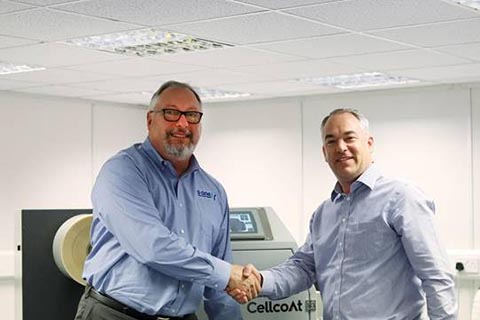 Ralph Giammarco, S-OneLP and Jonathan Smith, Cellcoat.
Sarasota, Fla. – S-One Labels & Packaging is pleased to announce a new partnership with Cellcoat Systems to bring the T14 Thermal Laminator to the narrow web labels and packaging market.
The T14 Thermal Laminator, with its compact design, provides accurate tension control and high-speed capability that are ideal for digital label and flexible packaging printing and converting, especially when speed to market and minimal material waste is critical. It is ideal for HP Indigo Series 3, HP6000 series and 330mm-wide press owners.
The machine's innovative design includes an in-line corona treater, lay-on roller, chill rollers, edge alignment and inline slitting that can all be managed by a single operator.
The Cellcoat T14 Thermal Laminator is available in North America and EMEA exclusively through S-OneLP. Information about the T14 is currently available in S-OneLP's Labelexpo Europe stand #7E36.
This is an exciting development for press operators who want to use their narrow web machines to create flexible packaging with surface-print films and provide an overlaminate to protect the ink layer and add options like soft-touch, special designs and scratch-resistance. It provides a cost-effective method in contrast to costly pressure-sensitive adhesive laminates.
"S-OneLP is committed to helping HP Indigo printers expand their markets by adding capabilities to do more cost-effective lamination and offer unique surfaces and finishing solutions for flexible packaging," says Ralph Giammarco, S-OneLP Vice President. "We are excited to join forces with Cellcoat, who have engineered a state-of-the-art machine to help our customers build their business by adding these new capabilities."
Cellcoat T14 Thermal Laminator Product Highlights
Easy settings for quick set ups for a single operator
Short web path ideal for high-value materials (minimal waste)
Superior bond strength
No wet-out time required
Ideal for: Flexible packaging, label finishing, roll stock, pouch film manufacturing, multiple film construction
"The T14 design has been heavily influenced by experts in the flexible packaging industry," says Jonathan Smith, Managing Director at Cellcoat Systems. "This, combined with our 33-years' experience in thermal lamination and our new partnership with S-OneLP give label printers a practical way to diversify and innovate in their business to keep ahead."
Visit S-One Labels & Packaging at S-OneLP.com.