"If you are shopping for a multicolor solution, Alwan should be on your shortlist"
– Ryerson University, Expanded Gamut Study 2019
Alwan Color Expertise participated in the Ryerson University Expanded Gamut Study 2019 to showcase its innovative color management and profiling technologies applied to digital multicolor printing.
Alwan's HiFi technology, available in its color server Alwan ColorHub, and in its spectral profiling tool Hydra®, delivered great results where more than 90% of the spot colors were reproduced.
Ryerson University RoundUp
In the summer 2019, Alwan Color Expertise participated in an industry shootout organized and ran by Ryerson University under the lead of Dr Abhay Sharma.
The objective of the study was to test available technologies that can profile 7-color digital printing processes and reproduce Pantone® colors on CMYKOGV digital devices.
To do so, Alwan used its Hydra® spectral profiling technology included in Alwan ToolBox , and Alwan ColorHub software.
All Alwan's tools were used together with their HiFi technology, necessary to work in a multicolor environment.
Profiling made easy with Hydra® in Alwan ToolBox
Launched in 2017 after 5 years of research and development, Hydra® spectral technology was built to enable printers profile any printing process using spectral data, which requires a much smaller amount of information compared to standard CIELAB technologies.
Two main benefits were identified: a faster processing of the data (measurement, profile building) and a smaller area needed to incorporate reduced-size charts (possible profiling from production, no change in the current profiling process).
With over 50 installations to date, Hydra® builds ICC profiles and is compatible with all printing processes (offset, digital, flexography, gravure, etc.) and ink palettes (CMYK, spot, multicolor, etc.).

Hydra® Extended Color Gamut profiling proved highly valuable in the conventional and digital multicolor applications.
With a small number of patches – between 40 patches for offset CMYK and 875 patches on one A4 page for Digital CMYKOGV – Hydra® can be used to easily profile any printing process in minutes, without any change in the current characterization process.
The easy step-by-step profiling process in Alwan ToolBox demonstrates Hydra®'s fundamental promise to simplify profiling in order to improve quality and cut costs. Profiling is instrumental to achieve high quality and cost-efficient results. Hydra® serves this purpose: profiling a printing process (press, inks, substrate) was never made so easy.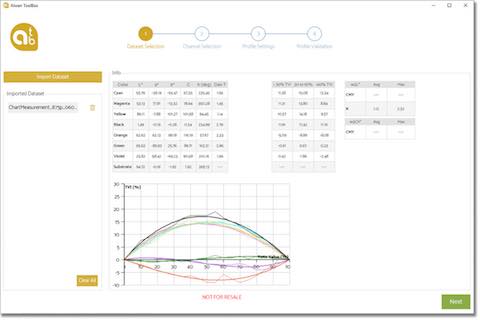 Hydra® step-by-step process in Alwan ToolBox
Color management with HiFi in Alwan ColorHub
Alwan ColorHub is a workflow-independent color server offering automation for color separation and ink optimization.
The purpose of the software is to help reproduce accurate and cost-efficient colors.

During the Ryerson University RoundUp, Alwan ColorHub used Hydra® 7-color profiles to convert Pantone® colors to CMYKOGV files.
Measured data showed that more than 90% of the Pantone® colors where reproduced with a ΔE00 < 2.0 on an Epson SureColor P9000, and more than 85% on an HP Indigo 7900.
Presenting the Ryerson University, Expanded Gamut Study 2019 results
Dr Abhay Sharma from Ryerson University will be presenting the results of the study on Print19 in Chicago on Friday 4 October ("Everything You Need to Know About Expanded Gamut Printing – Real Systems, Real Test Results", 12:00-12:50pm, location: S403ab).

Alwan Color Expertise will be represented during the Print19 trade show by CEO Elie Khoury and Marketing Manager Clément Chichignoud. Alwan's representatives will be available on The PRINT Lounge (location: N228) where they will be happy to present their tools more in details.

I want the full report