Event to serve as launch platform for new FlexiDYESUB Solution
Salt Lake City, Utah – SA International (SAi) will use PRINTING United to demonstrate how sign and display businesses can boost creativity and increase throughput using its very latest software innovations. As it marks its 30th year in business, the company heads to PRINTING United bringing new solutions and performance-enhancing updates to its foremost products.
Making its debut at the show will be the new FlexiDYESUB, which, as part of SAi's flagship Flexi software, aims to offer the dye-sublimation world an all-in-one package for their entire workflow. The solution incorporates a full printer production feature-set, as well as a complete design application, to make dye-sublimation design easy for sign and display businesses.
Also spearheading SAi's product line-up will be the recently-introduced Flexi 19, the most feature-rich version of SAi's flagship signmaking software to date. Comprising a faster and stronger 64-bit RIP, it delivers a speed increase of over 30% enabling large format print providers and sign shops to boost their production capabilities.
Engineered as an all-in-one solution for design, print, print-and-cut and direct-to-vinyl production workflow, Flexi 19 is loaded with a raft of powerful tools – some of which are available free-of-charge to customers who access the software on a subscription basis. A key addition to the software is Find my Font, a tool which enables users to open different photo files, including Bitmaps, before detecting either the same font or best match to that in the file.
Visitors to the SAi booth (6424) can see live demonstrations of both FlexiDYESUB and Flexi 19 and discover how accessing the software on subscription enables users to enjoy more financial flexibility and greater cost control.
PRINTING United attendees can also learn more about SAi's Sign Design Elements and its VirtualSign app, both of which are available to Flexi 19 subscribers. Launched this year, Sign Design Elements is a comprehensive stock library consisting of more than six-and-a-half million high-resolution images, logos, fonts, cut-ready vector illustrations, vehicle outlines and wraps, and metallic-ready files. The recently launched VirtualSign app uses augmented reality to create a virtual representation of how signs would look in reality, increasing throughput for sign and display businesses.
Additionally, Printing UNITED will see SAi feature the capabilities of its new EnRoute 6.1 CAD/CAM software, introduced this summer. Available to subscription customers EnRoute 6.1 includes new features such as improved previewing options, job statistics and cutting, which collectively deliver increased control and time-saving capabilities for users within the signmaking, and woodworking industries.
"SAi is bringing its 'A game' to PRINTING United, where we expect to demonstrate the multitude of productivity-enhancing benefits delivered by our powerful software solutions. Our team looks forward to engaging with those visitors seeking to improve productivity and boost efficiencies within their signmaking workflow, as we know we have the expertise to support these goals," comments Sarit Tichon, Senior VP, Worldwide Sales at SAi.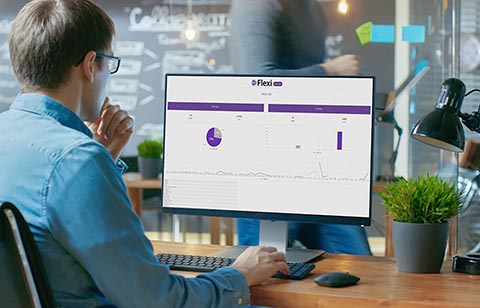 SAi's feature-rich Flexi 19 software will be exhibited at PRINTING United 2019.