CMYUK continues to support PSPs in their adoption of digital textile printing and finishing

CMYUK, Shrewsbury – CMYUK has partnered with AE Sewing Machines to become the exclusive distributor for the Advanced Sewing Automation ASA 3010 TPL – KC in the UK and Ireland.
The ASA 3010 TPL – KC is a conveyorised industrial sewing machine system, designed and manufactured by AE Sewing Machines specifically for digitally printed signs and banners. It provides highest quality finishes to fabric and PVC textiles ensuring that flat seams are achieved for applications such as silicon/PVC beading or keder attaching, hemming, Velcro and the like.
The ASA 3010 TPL – KC comprises a twin needle lockstitch head from the world's number one sewing machine manufacturer Juki, attached to AE Sewing Machines' ASA tactile and robust conveyor. Built from the highest-quality British-made components, the conveyor measures 3m x 1m, has powdered coated steel covers and lockable wheels.
However, where it scores points against its competitors is the automatic synchronicity between sewing machine and conveyor, controlled centrally from the Advanced Sewing Automation 7" touch screen. This ensures that material being sewn is travelling at the same speed as the conveyor. A high grip silicon belt assures that graphics remain flat and even during travel.
The system is designed for simplicity of operation and versatility. There are additional fittings that can be purchased such as attachments for different sized hems. These are easy to fit as they slot into place thanks to the magnetic guidance system that requires no adjustments.
Operators for this system don't need to be fully qualified sewing operatives in order to use it. In fact, the ASA 3010 TPL – KC was developed in the knowledge that skilled sewing operatives are few and far between and training takes just two hours.
John Gerrard, MD and founder of AE Sewing Machines said, "CMYUK is a well respected and trusted supplier in wide-format digital print. We strive to provide the most innovative and convenient sewing solutions. We have designed a system that makes it easy for PSPs to bring their sewing needs in-house. We are also there to offer full machine support and service."
Robin East, Director at CMYUK said, "We offer complete solutions to customers who want to offer digital textile printing. The ASA 3010 TPL – KC allows our customers to sew SEG silicon edge beading onto textiles and also hem PVC. We source the best equipment to help support our customers in all their endeavours. This new Juki-based conveyorised system offers PSPs versatility, increased productivity and ease of use – you don't need to be an experienced machinist to use it. It's a fantastic addition to any PSP printing textiles."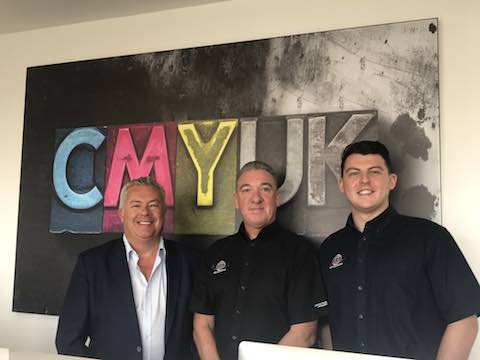 Left to right: Robin East (CMYUK), John Gerrard and Ellis Gerrard (A E Sewing Machines).