Andover, Mass. – Standard Finishing Systems will again present a diverse lineup of feeding and finishing solutions at PRINT 19, one of the largest events catering to the printing industry in North America. Each year, PRINT offers those in the industry the occasion to see the latest breakthrough innovations and to learn from manufacturers and other industry leaders about new trends and business opportunities.
Standard's 5,400 square feet of exhibit space, the largest display of feeding and finishing at the show, will be packed with equipment set up for live demonstrations in die-cutting, perfect binding and trimming, slitting and creasing, folding, saddlestitching, and roll-fed print solutions. The technology on display will highlight advanced automation, including the Horizon StitchLiner Mark III Saddlestitcher plus new VAC-L600H Air-Suction Collators raising the bar in large-format booklet production and the Hunkeler Generation 8 Roll-to-Stack system equipped with the new LS8-30 Long Stacker, capable of handling the widest range of formats and media on the market with ease. A wide range of Horizon and Hunkeler application workflows will produce a variety of finished samples, demonstrating format flexibility, short-run capability, and smooth setup and changeover.
"The solutions and technologies we're featuring at PRINT 19 are a direct response to the evolving needs of our customers in this rapidly changing industry," says David Reny, Executive Vice President at Standard. "Print service providers need smarter and more efficient finishing solutions to adapt and prosper. At PRINT, we'll be helping attendees find the tools they need to make their businesses even more productive and competitive by demonstrating real-world applications on a wide range of automated solutions — from standalone systems to end-to-end setups."
Horizon Solutions Expand Business Opportunities and Streamline Production
At PRINT 19, Standard will be featuring Horizon's latest release: the VAC-L600H Air-Suction Vacuum Collator. The VAC-L600H builds upon the successes of past VAC collator models by improving air flow, expanding size capacity, and increasing efficiency to allow end-users to process a wider variety of applications. Sheets ranging from 5.83" x 5.83" to 14" x 24.01" can be loaded easily in each collating bin in stacks up to 5.11". The VAC-L600H features individually adjustable air supplies at each feeding bin along with optional back-side sheet separation, providing controlled separation for heavy, large-format sheets along with stable sheet handling of lightweight and difficult paper stocks. The VAC-L600H is also equipped with a powerful icon-based touchscreen console for easy, automatic job setup. Combined with the StitchLiner Mark III Saddlestitcher, the VAC-L600H is capable of producing 4.725" x 3" small-format booklets, 9" x 12" landscape booklets, large-format calendars, and much more.
The Standard Horizon StitchLiner Mark III combines collating, scoring, folding, saddlestitching, and trimming into a single, performance-driven machine. The StitchLiner Mark III offers fully automated setup, including stitching head settings, with no manual adjustments required for book thickness at the trimmer. The system can deliver up to 6,000 high-quality booklets per hour with ease – even variable stitch length and variable page count booklets.
The Standard Horizon BQ-480 Perfect Binder will also be on prominent display at PRINT 19. The BQ-480 has set new standards in automation and efficient, high-quality book production. It tops its class in several key areas, including setup and changeover for variable book production, where it reaches a maximum speed of 800 books per hour for book-of-one production and can support book thicknesses from 0.04" (1 mm) to 2.56" (65 mm). Designed to meet the requirements of PUR book binding, the BQ-480 includes a gentle elevator delivery system to deliver books without damage or marking.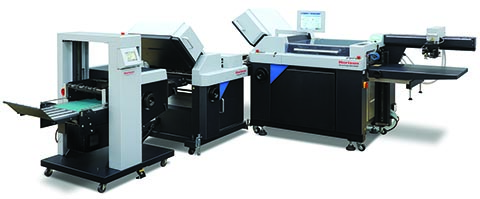 The Standard Horizon AFV-566/TV-564 Folder, a highly automated and dynamic machine that achieves new levels of production efficiency in folding, will also be on display for PRINT 19 attendees. The folder's uniquely designed buckle plate ensures consistent, accurate folds, and accommodates a wider range of substrates. The system also boasts automatic scoring navigation and double-sheet detection, improved registration, and easier sheet loading. Other folders on display include the AFC-746F Large-Format Folder and AF-406F Small-Format Folder, which allow a wide variety of fold patterns on an even wider variety of applications in a minimal amount of floor space at speeds up to 42,000 sheets per hour.
Alongside these products, Standard will show a range of individual solutions for creasing, slitting, die cutting, perfect binding, and trimming – each loaded with advanced automation to provide increased flexibility and maximum productivity. PRINT 19 attendees should expect to see the versatile SmartSlitter, an all-in-one sheet processing system that can slit, gutter cut, edge trim, cross-cut, perforate, and crease in a single pass, as well as the popular RD-4055DMC Rotary Die Cutter. The RD-4055DMC is designed to simultaneously die-cut and crease/score short-run product from both sides of the sheet, and can handle even complex creasing patterns and light packaging applications with ease.
Hunkeler's Generation 8 Continues to Set the Standard for Digital Print Finishing
Hunkeler's award-winning Generation 8 modules will be on display again this year at PRINT 19. Standard will be demonstrating Hunkeler's Roll-to-Stack line, featuring their brand new, 30" long LS8-30 Long Stacker. The Roll-to-Stack system produces straight and fully-separated stacks from 1-up to 4-up. The system handles coated and uncoated stock, from 27 lb. text to 12-point card and features the hallmarks of Hunkeler's Gen8: greater automation, increased speeds (590 fpm) and web width (22.5"), service-friendly design, and remote troubleshooting access for operators and service technicians.
In addition, the new LS8-30 Long Stacker allows the Roll-to-Stack line to support the widest range of formats on the market, from full-bleed 4" x 5.5" postcards to sheets as large as 22.5" x 30" (B2+ format) at speeds of up to 300 stacks per hour. The LS8-30 has become the go-to option for graphic arts professionals who have adopted high-speed inkjet and already post-process B2 sheets.
For more information on these Horizon and Hunkeler solutions, visit Standard Finishing Systems at PRINT 19, October 3rd-5th in Chicago, IL, at Booth #810. Attendees are invited to arrange a private equipment demonstration tailored to their application requirements by pre-registering for the Standard VIP Program at http://www.sdmc.com/print19/.