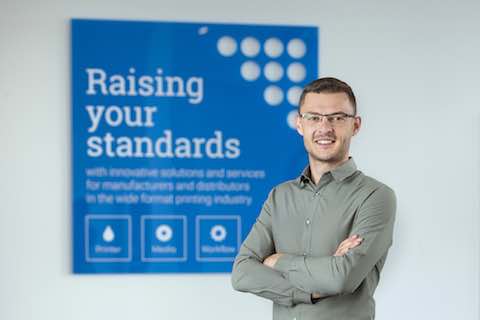 Andre Venter has joined our team! He will be the project lead for ColorBase developments and will assist the professional services group with his extensive experience in services like: color management and workflow training, as well as general production optimization consulting.
The passion for color and printing development started at a young age when Andre Venter joined the family's print-cartridge business. As a young South African entrepreneur, Andre applied his skills to start his own very successful wide-format printing and signage company. Later, he sold his company.

He acquired more knowledge during his time at a graphic supplies company. He operated in the supply chain for the graphics market, and wide-format print support and sales. His determination for success and superior quality in the color and printing industry, and moreover the hunger for technological growth, guides his career path to the Color Concepts team.
Andre Venter: "A career in color management and color technology is exponentially more exciting when you have an opportunity to work for such a cool, innovative and disruptive company."

We are the world's largest, independent services provider to manufacturers in the digital wide format printing industry. We have intensified our commitment to standardization and distribution of data. This is concerning printability and application conformity of printing materials for the digital wide format printing industry. We are substantially investing in the expansion of our team and development efforts.