West Caldwell, N.J. – Since House of Printing in Burtonsville, Maryland had been a Polar shop for the last 47 years, Ed Schultz's first thought when he needed a new paper cutter was to look at machines he was familiar with. But once the general manager laid eyes on a new 45-inch SABER® X-15 paper cutter with Microcut®, he chose the Colter & Peterson unit. Installed in May, the machine has already boosted HOP's productivity by 15-20 percent.
Schultz changed his mind after talking to HOP's owner, Bryan Fletcher, and conferring with Jeff Tomlinson and Chris Kendig at Atlantic Graphic Systems in nearby Columbia. HOP had been running two Polar cutters, including one that had 30 years of mileage on it. When that machine exhibited problems earlier this year, Schultz approached Heidelberg for a solution. Not satisfied, he turned to Kendig and Tomlinson who arranged a tour of a facility so he could see the SABER X-15 in action.
"The main thing I liked was how easy it is to change the blade. It's an automated and simple process, among other things," acknowledged Schultz, who joined HOP 30 years ago out of high school and has spent the last 20 years in management. "We've basically been a Polar operation for a long time but this machine is so simple. It is mainly steel, with a carbon blade and no plastic parts, and we needed very little training because of the automation. The SABER was installed in the morning and the learning curve is so little, we were cutting jobs two hours later."
A Beltway force for over 55 years
That kind of turnaround was extremely helpful and fit in with HOP's mindset. Located on the northern end of the Washington D.C. metro area, the offset and digital shop has served local customers since 1972. An FSC certified printer, they employ 42 workers and operate from a 30,000 square-foot facility. Schultz said HOP's business remains consistently steady year-round, so having a paper cutter they essentially could just plug in played to their strengths.
"Our philosophy is we never turn down a job, no matter how difficult it may be," he noted, pointing out HOP prints everything from annual reports, books, brochures, catalogs and newsletters to the basic business cards, letterhead and postcards. "We have a reputation and that requires us having dependable finishing equipment. The SABER cuts paper and other substrates quick and clean, and it keeps sheets even so there are no registration problems."
The 15-20 percent rise in productivity in the last 2-1/2 months helps since Schultz says HOP's presses are running 60,000 sheets per day. The work keeps them busy enough to average two shifts, five days a week, servicing the federal government and associations in Washington D.C., as well as other businesses in Baltimore and in between along the Beltway corridor.
On the digital side, the work is done with two Canon imagePRESS C10000VP units, plus an Illumina Xante 4-color press. Offset-wise, they run jobs on a Komori Lithrone 40P 28x40 5-color perfector with aqueous coating, a Komori Lithrone 24LSX 23x29 5-color with infrared dryer, and a Ryobi 12x18 2-color press.
"The SABER is handling all of our lamination card work," said Schultz. "We typically do between 200-300 cards per order, and we average 30 orders per day. That's where the double bevel feature of the machine comes into play. Our cutter operators love it because with the accuracy, the air table and how simple it is to run, it keeps them going."
As an example, Schultz referred to using a Horizon Stitchliner to handle smaller work.

"The new paper cutter makes life so easy for them, there are times where we have the folder operators just cut the job and fold it. The Stitchliner takes the 4x6 flatwork, then we fold and collate and trim everything to fit. It saves us a lot of time."
Schultz said that saving more time is in the cards once they get a better understand of all Microcut has to offer on the SABER X-15. "We haven't gone very deep into all of the programming and other features yet. But we are looking forward to using and benefitting from it in the future."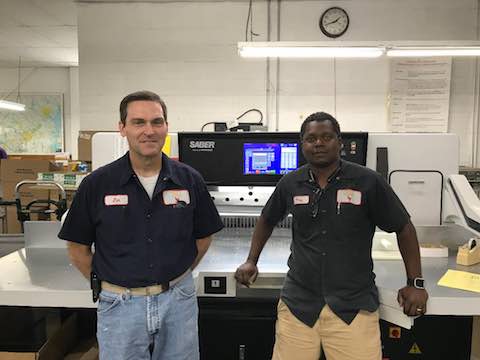 House of Printing operators Troy Julian (left) and James Eden with the new 45-inch SABER X-15 paper cutter.