Looking to boost capacity to keep up with consistent year-on-year growth, one of the first companies to install a Jet Press 720S back in 2014 has now become one of the first to install Fujifilm's third generation Jet Press 750S. It is now running all three presses simultaneously.
Fujifilm today announces that reputable German commercial print company Straub Druck + Medien AG, based in Schramberg, installed a Jet Press 750S in May 2019 to meet growing business demands. A long-term Fujifilm customer, the company already owned two Jet Press 720S presses, making this the company's third Fujifilm Jet Press installation. Straub Druck + Medien produces a range of high quality printed products, both long and short run, including brochures for luxury brands, short-run promotional packaging and calendars and mailings for regional, national and international customers. It also offers a wide variety of processing and finishing options for all applications.
Francisco Martinez, CEO, Straub Druck + Medien AG says: "Our business is expanding and we are now consistently achieving 35% year-on-year growth. As our demands grew, the Jet Press 750S became the obvious choice for us to ensure that our capacity keeps pace with business demand. The uptime and quality we have been able to achieve from the 720S presses has been outstanding, but with the Jet Press 750S the best has got even better!
"The Jet Press 750S is already showing an enormous amount of potential within the short amount of time it has been operating. Initially, we planned to replace one of our 720S machines with a 750S, but we quickly decided we just couldn't part with any of them just yet and now intend to keep all three for the foreseeable future. The Jet Press 750S is undoubtedly a higher productivity machine, but our 720S models keep on delivering for us as well.
"Fujifilm Jet Press technology has been transformational for our business since our first press was installed in 2014. In the Jet Press 750S, Fujifilm has produced a machine that takes levels of quality, productivity and up-time to yet another level. In its first full month of operation we have seen output of one million sheets and we expect that this will only continue to grow once the machine is operating around the clock. We anticipate being able to print up to 2.5 million sheets per month across our three Jet Press presses during the busy period in the lead up to Christmas.
"What's more, the new drying system featured within the 750S gives us greater control and fine-tuning of the drying temperature. Not only is this easier to use and much more efficient, but it extends the range of substrates that we are able to print.
"Our Jet Press 720S presses have already enabled us to significantly enhance our environmental credentials. With the 750S, we expect to also reduce our energy usage by 23% and to reduce our already low levels of waste still further. All of which allows us to meet our customers' expectations as sustainability becomes an increasing concern for them.
"Finally, the updated design of the press appealed to us and the smaller machine footprint saves us space – which is an increasingly scarce resource given our recent growth. The sleek exterior and upgraded visual display look great, and the new software interface that can be automated via a tablet or smart phone is an additional bonus to streamline the production process. Our press operators love it.
Martinez has also been complimentary of the service and support received from Fujifilm over the past few years. "As always," he concludes, "the sales and installation support we've had from Fujifilm has been second to none. Fujifilm has always been readily available when we've had any problems or questions over the years and we're excited to be developing this relationship still further."
Taro Aoki, Head of Digital Press Solutions, Fujifilm Graphic Systems EMEA says: "We're delighted that Straub Druck + Medien are trusting Fujifilm technology once again for their print requirements, and we're pleased to have seen the substantial impact that the first two presses have had on its business. The Jet Press 750S is the new benchmark for digital print quality and uptime productivity, and we are confident that this installation will aid Straub Druck + Medien in growing their business still further."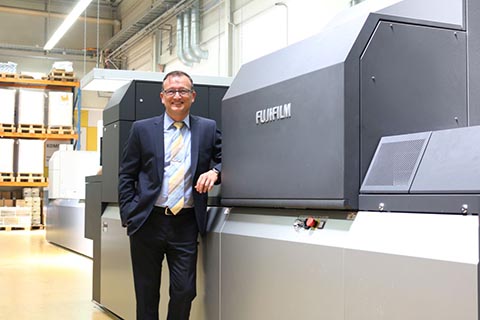 Francisco Martinez, CEO, Straub Druck & Medien AG.