Following a handshake confirmation of the sale at the Fujifilm stand during FESPA, HECHT is set to install an Acuity Ultra next month
A long-time Fujifilm plates customer, HECHT has now secured its first Fujifilm inkjet investment with its purchase of an Acuity Ultra. The machine will be installed in June 2019.
High-end, large format printer HECHT, which has additional locations in France and the Netherlands, was acquired by Koramic Visual Communication Group in 2017 and immediately set about expanding its already substantial production capacity.
"We were looking to expand production capacity at HECHT following the acquisition and we investigated and ran tests on a number of different machines to help us to do that," says Rik Deman, CEO of Koramic Visual Communication Group. "Ultimately, there were two decisive factors that led us to conclude that the Acuity Ultra was the right machine for us. First, we found that the Acuity Ultra offered an unrivalled combination of speed and quality and, secondly, it also has an excellent and very fast white ink printing option.
"The latter point is particularly important to us as we see the high-end, backlit graphics market and the out-of-home advertising market as key growth areas. Being able to print white ink at exceptional levels of quality, and to do so quickly and efficiently, will be key to driving growth for our business in this sector."
Nils Gottfried, Wide Format Inkjet Product Manager at Fujifilm Graphic Systems EMEA adds: "The Acuity Ultra has made a huge impression on the superwide format graphics sector since its introduction at FESPA last year. We've been working hard to enhance and develop its capabilities even further and we're delighted to see yet another European business recognise the unique combination of benefits it offers."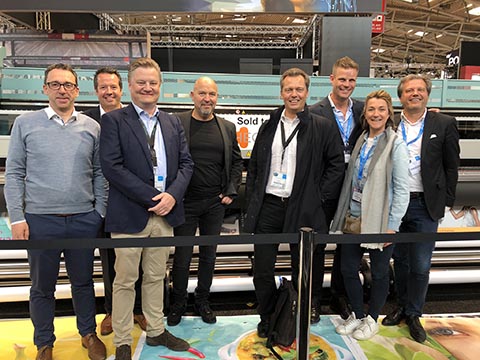 Olivier Wellens, Fujifilm Belgium (second from left), Rik Deman, Koramic Visual Communication (third from left), with members of the HECHT team.