West Chester, Ohio – Color-Logic has certified Costa Gráfica in Puerto Vallarta, Mexico, as the first Color-Logic printer in Mexico. Costa Gráfica offers a full line of printing services, and was an early Xerox Iridesse user. Discussing the certification, Color-Logic Director of Sales and Marketing Mark Geeves said: "The Color-Logic design tools enable Costa Gráfica to reduce prepress costs and create metallic embellishments much faster and without the need for trial and error verification. Our FX-Viewer enables Costa Gráfica to preview and verify files at the concept stage, rather than use press proofing."
Costa Gráfica Puerto Vallarta brings more than 18 years of experience in digital printing to the Mexican market. The business focuses on providing professional solutions to creative and visual communication needs.
For more information, visit www.color-logic.com or call +1-513-258-0047.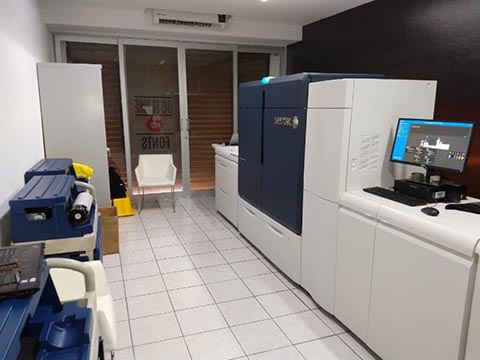 Xerox Iridesse at Costa Gráfica.