Munich, Germany – Béflex, a PoC (Point of Communication) print expert company, will streamline its operations while strengthening business management capabilities in digital inkjet display graphics production with the purchase of an EFI™ Midmarket Print Productivity Suite, which features at its core EFI Pace™ ERP software. The Budapest-based company purchased the comprehensive business and production workflow suite from Electronics For Imaging, Inc. on the opening day of the FESPA Global Print Expo.

Béflex is one of Europe's most progressive users of advanced EFI superwide-format printing technologies, and was one of the first businesses worldwide to run EFI's latest-generation VUTEk® roll-to-roll and VUTEk h series hybrid LED superwide-format inkjet printers. The suite will integrate with Béflex's superwide-format printers and the EFI Fiery® digital front ends (DFEs) used to drive the printers, creating a highly automated, streamlined, and data-driven business and production management workflow.

For Lászlo Bárán, Béflex's CEO, adding the suite is in an investment in his employees' productivity, as it will eliminate much of the work staff spend today on administrative management, working from spreadsheets and pulling and entering data into several separate, non-integrated software programs.

"We have been looking for a software for several years to optimise our business, and we wanted an end-to-end solution," said Bárán. "The Midmarket Print Suite with Pace provided what we are looking for, from quoting to delivery, and it means our staff will be able to spend less time doing administrative tasks and more time more on production tasks."

The suite, combined with EFI VUTEk printers and Fiery DFE integration, provides a robust solution with certified workflows. Users can automate, track, and gain insight through customised reporting to understand what is happening on their shop floor and make better decisions to boost their bottom line. Along with advanced, best-in-class technologies for estimating and quoting, job submission and order entry, scheduling, accounting, shipping and fulfilment, Béflex's suite will include a Super Wide Format component feature specifically developed to drive efficiency and automation in display graphics production.

Several new capabilities in the latest version of the Midmarket Print Productivity Suite are designed to enhance display graphics performance, including cross-job ganging and roll media management tools. Newly improved data collection tools in the suite reduce the steps operators take in tracking jobs, while also streamlining scheduling processes, particularly for fast-turnaround digital inkjet work.

Implementation of the Midmarket Print Productivity Suite at Béflex's facility is expected to begin in the coming weeks.

Printing and packaging professionals across the globe rely on EFI's portfolio of workflow products to manage their businesses and become more streamlined, efficient, informed and profitable. For more information, visit www.efi.com.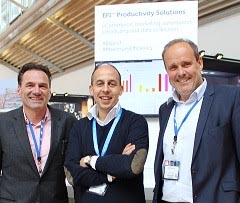 (L to R) Adrian Zesinger (EFI EPS Western Sales Director), Béflex CEO Lászlo Bárán, and Stephan Stark (EFI EPS Dach Sales Development Manager) discuss the EFI™ Midmarket Print Productivity Suite at FESPA.