The new standard in print & cut
"And finally, real orange!" The Dutch sign specialist Gielen Reclame (Valkenswaard) is incredibly enthusiastic about the successful beta test of the new 8-colour TrueVIS VG2 printer/cutter from Roland. So happy, in fact, that Chris Gielen immediately purchased two machines: "The addition of the new orange ink now provides us with the opportunity to make even better prints with certain corporate identity colours."
Gielen Reclame, along with a sign maker in Denmark and Renault F1® Team, is one of the three European companies that have subjected the new generation TrueVIS from Roland DG to extensive practical testing. The Dutch company has a great deal of experience with Roland devices - there were already six Roland printers in the production hall, and with the investment in two TrueVIS VG2 devices there are now eight - and was therefore the ideal customer to push the boundaries of this new printer.
New generation
The TrueVIS VG2 is the latest generation printer/cutter from Roland DG. "In its development, we were able to build on more than 30 years of knowledge and experience with 16 previous generations of products in the print & cut market segment that is so important to us," says Karel Sannen, Marketing Manager at Roland DG, Benelux. "We have introduced more than 40 new and improved functions and features - in the hardware, but also in the software and the ink, including orange ink for an even wider colour gamut. Together, these improvements ensure even better performance than previous generations. I am convinced that the TrueVIS VG2 truly sets the new standard in large format printing solutions. And that's why I am happy that our beta test customers endorse that view as well."
Even better corporate identity colours
The TrueVIS VG2, introduced in March, is available in various ink configurations, including CMYK x 2 and CMYKLcLmLk with orange or white in the eighth colour channel. Chris Gielen, owner of Gielen Reclame, opted for orange as the eighth colour because he already has white ink on another Roland system: "We do a lot of printing for motor sport companies, and you can get great effects with a different type of foil, for example metallic, with white ink. On the other hand, the orange ink now offers us the option of making even better prints of difficult corporate colours. I come from the commercial printing world. With four-colour printing, we always had problems when there was orange in a corporate design; it often came out brown-ish when produced with four-colour process printing, irrespective of what the Pantone colour guide you placed next to it showed. Or you had to work with an additional PMS spot colour. Four-colour inkjet can have the same problem, but Roland has now solved this with its new orange TR2 ink."
Karel Sannen adds: "The software includes features such as an Orange Colour System Library that help users to reproduce brand colours quickly and accurately. Users can choose a specific colour of orange ink, such as Pantone 021; or opt for a fresh colour that gives you bright green and deep blue. You can easily print amazing colours that truly pop with the new TR2 inks and our True Rich Colour setting."
Unprecedented colour strength
In addition to unprecedented colour strength, the TrueVIS TR2 inks feature improved scratch resistance, Sannen explains. "In recent years, other manufacturers have started marketing new technologies such as latex and UV inks. However, like many professionals in our industry, we remain convinced that flexible materials such as PVC and our TrueVIS inks are the perfect combination. The new TR2 inks, including orange, support the widest array of applications and ensure the most long-lasting results: TR2 inks retain their colour even after three years of outdoor use. With these new TR2 inks you can laminate your printed film after six hours and then apply it immediately, compared to 24 hours or more of wait time with other inks. Moreover, we have received an ICS guarantee from Avery Dennison, and 3M has twice issued MCS certifications for our colour configurations."
Optimal productivity
The TrueVIS VG2 hardware has also been improved in several ways. Sannen explains how that benefits customer productivity: "The machine's start-up procedure has been shortened, and the cleaning cycle has been minimised. This saves time and ink." Should a nozzle fail during production, the Nozzle Mask function will switch off that part of the print head: "Printing can then continue at half speed until repairs can be made. Downtime and associated loss of productivity is therefore prevented."
Moreover, the TrueVIS VG2 is equipped with the latest automatic pinch roller technology, whereby the middle pinch rollers are lifted when the cutting of a job commences: "This means that with a print-and-cut task, you no longer have to wait until the ink is completely dry before cutting." The roll-up unit for the print media has also been improved, so that the printed substrate can be rolled up more evenly and with more stability.
Gielen has also noticed the improvements, such as the new "Multiple Crop Marks" feature: "The TrueVIS VG2 cutter is unbelievably accurate. We normally apply some overlap around the logos to be cut, to counter any imprecisions so that we do not get any white edges. But that is not really necessary with this system. In principle, we could cut without overlap, that's how precise this machine is."
Sannen explains how the VG2 achieves that: "In addition to the option of setting four register marks per print job, you can also define crop marks at line level. There is even a third option: printing register marks per object to be cut. This allows the machine to calibrate more often, resulting in unprecedented accuracy in contour cutting."
Amazing quality even in Standard mode
Chris Gielen mentions another interesting advantage of the new Roland TrueVIS VG2: "We always print in high quality mode. That is how we came through the recent financial crisis. Our motto is: Do not use cheaper materials or inks, but adhere to quality. Paying attention to your customers and their desire for the utmost in quality yields more than cutting back on materials ever would. However, at Roland's recommendation, we have also started using the VG2 in the standard mode at 900x600 dpi. We are positively surprised at the visible print quality, even in standard mode. There are, of course, critical colours to which this approach does not apply; but in 90 percent of the cases, you can do perfect work on the VG2 just using the standard setting." Convinced by the performance of the TrueVIS VG2 during the beta period, Gielen immediately purchased two units of the new machine when it became commercially available.
Watch Gielen Reclame's video about their VG2 experience and find out more about their business at www.gielenreclame.nl.
To learn more about Roland's award-winning TrueVIS VG2 series wide-format printer/cutters, visit www.rolanddg.co.uk/products/printers/truevis-vg2-series-printer-cutters.
Alternatively, discover the colourful world of Roland DG at Hall A5, Booth H10 at the FESPA Global Print Expo 2019 in Munich, Germany from 14 to 17 May 2019. For more information please visit www.fespa.com/en/events/2019/fespa-global-print-expo-2019. TrueVIS VG2 workshops will be held every day of the show on the Roland DG stand, taking place at 11am, 12pm, 2pm and 3pm at the TrueVIS VG2 Discovery Zone. Further details on the TrueVIS VG2 workshops can be found on the Roland booth (Hall A5, Booth H10) during the show.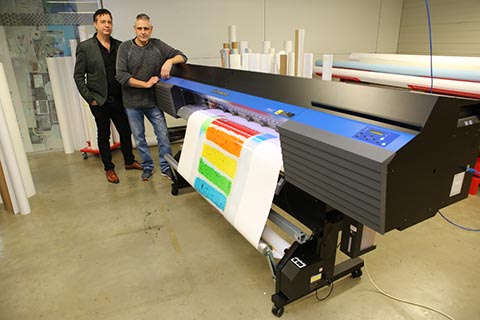 Chris Gielen of Gielen Reclame with the Roland TrueVIS VG2 printer-cutter.