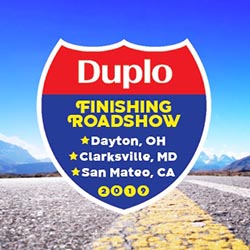 Santa Ana, Calif. – Duplo USA Corporation, a leading provider of digital color finishing, is marking its 40th anniversary with a three-city summer roadshow set to kick off on June 20 in Dayton, Ohio. Attendees will be able to see demonstrations of digital color applications produced on highly efficient print finishing equipment including slitter/cutter/creasers, bookletmaking systems, die cutters, folders, and much more. Print embellishment solutions will also be on display in the Digital Finishing Showcase, producing eye-catching raised spot UV and foil applications. Educational tracks from Duplo USA as well as EFI and Rhin-o-Tuff will be presented during the Lunch n' Learn hour.
Admission is free and registration is now open. Dates and locations for the 2019 Duplo Finishing Roadshow are as follows:
June 20th in Dayton, Ohio at the Hollywood Gaming Dayton Raceway
July 18th in Clarksville, Maryland at the Ten Oaks Ballroom
August 21st and 22nd in San Mateo, California at the San Mateo County Event Center
For more information and to register, visit www.duplousaevents.com.