Company chosen as Best Case Study Presentation for the In-plant Segment
San Diego, Calif. – Solimar Systems, Inc., a leading provider of customer communications delivery solutions, today announced that their presentation "3 Keys to Rapidly Improve Operations And Grow Your Business" won the "In-Plant Best Presentation" Award during the Inkjet Summit 2019 conference in Ponte Vedra Beach, Florida.
In its presentation, Solimar®, a 7-year sponsor of the event, explored how optimizing data, documents, and workflow-enabled customers to reap the full benefits of inkjet printing. Through several customer case studies, Mary Ann Rowan, Solimar's Chief Sales and Marketing Officer, detailed three key elements to drive efficiencies and profitability:
Converting files and data into optimized, print-ready PDFs
Batching, commingling, and scheduling of small jobs
Using Augmented Reality (AR) to access USPS postal savings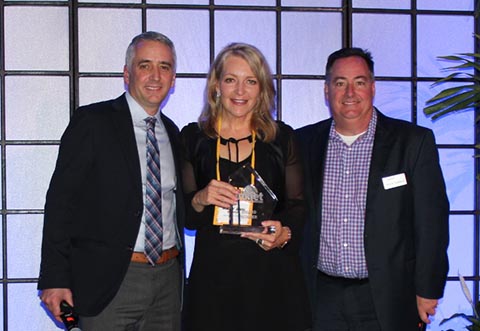 David Pesko, NAPCO Media, Mary Ann Rowan, Solimar Systems, and Mark Subers, NAPCO Media at Inkjet Summit 2019, Ponte Vedra, Florida.
"At the Inkjet Summit our executive attendees learn from their peers, leading analysts, and our sponsors who are leading suppliers who possess a wealth of information through their customer experiences," said NAPCO Media Executive Vice President & Inkjet Summit Event Director, David Pesko. "Our sponsors are part of the education process and year after year the Solimar team has never failed to share critical information about challenges, approaches, and outcomes in an effort to help make our attendees successful."
"It's a great honor to receive this award, and a privilege to share customer case study insights and best practices relevant to the in-plant printing segment," Rowan said. "Companies are looking for ways to creatively add more automation to their processes, and optimizing workflows and adding value to documents are important steps in that direction."