The proven Wide Format Automation Suite from the German software manufacturer offers wide and super wide format, signage und screen printers a high level of automation, high machine utilization and greater profitability
Meet OneVision at booth E34 and of technology partner Canon (E30)
Regensburg / Munich – "We not only increased the number of jobs per day, but also our profit margins." This statement by Michael Hiemann, Managing Director of SIEPRO KG, sums up the experiences of numerous satisfied users of the Wide Format Automation Suite.
True to the motto "An explosion of possibilities" of the FESPA Global Print Expo taking place in Munich from May 14 – 17, 2019, the German printing software expert OneVision also holds the view on the setup of its software solutions: the modular structure of the Wide Format Automation Suite hardly sets any limits for the user:
By connecting the workflow management system "Workspace" directly with the MIS, PDFs pass through classic file preparation steps such as preflighting, color management, flattening of transparencies, file normalization, etc. via defined workflows. The integrated prepress package offers fully automatic quality control and optimization of print data.
Functions specially developed for wide format print shops such as tiling & paneling and nesting allow print subjects to be dynamically grouped and positioned leading to lower substrate and ink consumption. The preparation of the finishing process was also sufficiently taken into account: the included cut line manager creates a corresponding cut line PDF based on the nested file, which provides the cutter with instructions for a seamless finishing process.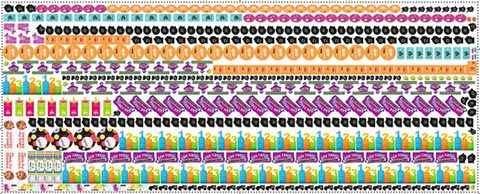 Perfect nesting with the innovative nesting technology
More jobs in less time and with higher margins

Finally, optimized and normalized print data PDFs are sent to the RIP. This highly automated preparatory work on file quality significantly reduces RIP times. All in all, the Wide Format Automation Suite offers significant efficiency gains: thanks to the prepress suite, error rates and RIP times are reduced; thanks to the direct connection to MIS and RIP and thanks to the use of the flexible workflow management system, manual intervention is reduced and production times are shortened; thanks to special functions such as tiling, paneling and nesting, there are considerable savings in terms of substrate and ink consumption.

Close cooperation between Canon and OneVision ensures perfect interaction between hardware and software
A prime example of the successful use of high-quality technologies is the Swabian wide format printer Siepro KG. The print service provider was able to expand its machinery from two to seven Océ Colorado presses last year mastering the significant increase in the number of print jobs. The use of the Wide Format Automation Suite was the decisive factor here: "Using the suite allows us to work significantly more flexibly, saving time and cost", summarizes Michael Hiemann. The bottleneck in prepress and file preparation was solved very successfully.
The latest version of the Wide Format Automation Suite will be presented at the OneVision booth in hall B5 booth E34 or at the booth of Canon Europe E30.