West Caldwell, N.J. – Colter & Peterson, North America's largest independent distributor of paper cutters and paper handling equipment, has two of the best brands in the industry, as well as a game changing electronics package that greatly improves production. C&P also has a dynamic sheeting machine, so visitors attending ICE/InPrint USA at the Kentucky International Convention Center in Louisville, April 9-11, will have the opportunity to learn more about the CHM 1700 precision sheeter in booth 542.
This is the first time Colter & Peterson is exhibiting at ICE/InPrint USA, and Bruce Peterson is optimistic that show attendees will be intrigued by the CHM 1700.
"I've heard good things about this show and decided to try it. Skip Hultgren with JT Leigh, one of our distributors with the CHM 1700, thought it was a good idea and will be in our booth," said Peterson, C&P's President & CEO.
"Interest for our PRISM® and SABER® paper cutter lines continues to be very strong. We continue to update to our Microcut® electronics, and the market response is very good as well. We have been in the precision sheeting business for several years and our customers are very happy with the performance of the CHM 1700. They get a great machine at a very good price, and I think converting people will want to learn more about it in Kentucky."
Besides the affordable price tag, the CHM 1700 has a lot to offer. Measuring 49 feet long, 17 feet wide and eight feet in height, it has the capability to sheet 65-inch wide rolls with a maximum diameter measuring 72-inches and a maximum sheet length of 82-inches. Operators consider it user-friendly since a catwalk rings the entire machine, allowing them freedom to reach any area.
The CHM also offers the newest technology and Siemens electronics, a large, programmable touch screen and slitter flexibility. A servo motor drive system provides smooth, reliable operation and helps reduce dust, static and curl situations is important. The machine also prevents scuffing and allows customers the flexibility to sheet multiple substrates, with some customers reporting a range from 20-pound cover stock to 30 pt. board.
"I've had customers tell me they love how easy it is for set-up, and that blade changes can be done very quickly," sums up Peterson. "One of the nicest compliments I've received from our customers about the CHM 1700 is the machine is clean and quiet, and makes for a great showpiece when customers visit their shop. If you are looking for an economy machine at a reasonable price that does a great job, you'll find it with the CHM 1700."
For more information, call (800) 932-0780 or visit www.papercutters.com.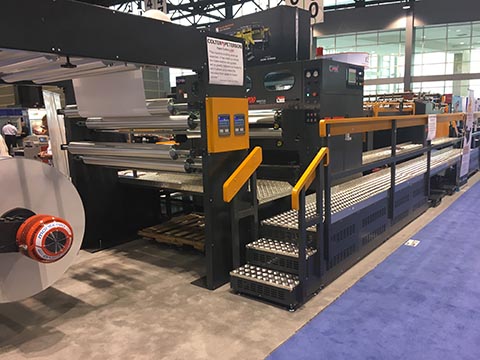 Colter & Peterson's CHM 1700 precision sheeter.