Salt Lake City, Utah – SA International (SAi) will use the upcoming ISA International Sign Expo as the platform on which to announce new product innovations that will significantly benefit sign and display businesses seeking to boost creativity and increase throughput.
As the show's software sponsor, SAi will demonstrate its very latest packages which provide innovative added-value solutions that facilitate design to production operations and drive business growth for customers. Visitors to SAi's booth will have the opportunity to partake in informative one-to-one tutorials focusing on the feature-rich Flexi and EnRoute solutions, as well as the company's Box & Display software, introduced for those looking to quickly and easily design custom cardboard boxes.
SAi heads to the show marking 30 years in business and will use the event to officially unveil its vibrant new purple branding. Visitors can look forward to celebrating the milestone with the SAi team, who will serve beer and wine on its booth during the last hour of each day.
Leveraging the power of subscription-based software
ISA will also provide visitors with a chance to explore the benefits of accessing Flexi via monthly subscription and cloud-based downloads. HP's Flexi-powered L365 Printer package, an offering available exclusively in the Americas, enables customers who purchase the device to benefit from a year's free subscription of Flexi software. This allows large format print providers and sign & display businesses to eliminate a major capital investment and incur a low operational cost, while also ensuring they always benefit from having the latest updates. Subscribers also benefit from SAi's recently-introduced Sign Design Elements, a comprehensive stock library of over six-and-a-half million downloadable assets for the sign industry.
"This year's ISA is particularly significant for us as we mark 30 years as one of the industry's frontrunners in added-value solutions for design, print and CNC machining," comments Michelle Johnson, Marketing Director at SAi.
"If you're a sign and display company aiming to optimize your workflow and extend your applications offering, then we invite you to come along to our booth, have a beer with us and let SAi turn your ideas into reality," she concludes.
See SAi at ISA in Las Vegas from April 24 – 26 at booth #3047.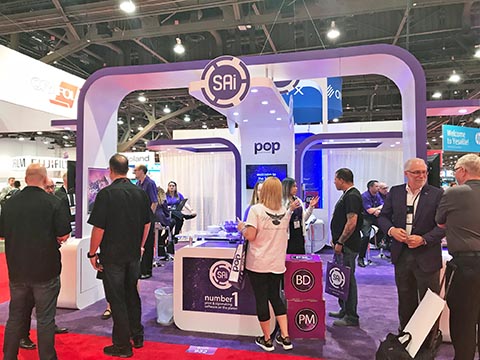 SAi will announce new product news at ISA, as well as officially unveil its vibrant new purple branding.