Leading Portuguese photobook printer cites speed, quality and environmental benefits as it invests in Fujifilm's third generation Jet Press 750S
FloriColor, based in Porto, has become the first Portuguese printer to invest in Fujifilm's flagship Jet Press B2 inkjet press, and one of the first printers anywhere in Europe to invest in the brand new, third generation Jet Press 750S. The press will be installed in January 2019.
A family business, with a proud 40-year heritage, FloriColor employs 82 people and exports its high quality products all around the world. "Quality is at the heart of everything we do," says FloriColor CEO Tiago Yu. "Our core market is wedding albums which we produce for professional photographers using high quality photographic paper. We've been buying this paper from Fujifilm for nearly 40 years. We're facing a number of challenges in this market and the fact that there are fewer weddings taking place means that we're looking for ways in which to diversify our offering. Over the years we've often looked at digital print options, but limitations – both the level of quality that is achievable, and in the choice of papers – have deterred us.
"In the Jet Press, we think we have found a solution that gives us the opportunity to truly diversify our product offering. We'll be looking to branch out into school photography, greetings cards and a range of other products, all while getting very, very close to photographic levels of quality. When an image has been heavily manipulated after shooting, something that is becoming increasingly common, photographic printing processes can run in to difficulties, as can the digital printing alternatives we've tried. This is particularly true of images in which the lighting has been artificially enhanced with photo-editing software. We sent some heavily edited images that we'd really struggled to reproduce accurately to Fujifilm, without telling them any of the details, and the Jet Press 750S handled them with no problems whatsoever.
"Speed is another major benefit we're going to see. The Jet Press will be able to handle the same level of work in two hours as we currently produce in eight hours.
"Finally, the environmental benefits in switching to the Jet Press have also been a factor. Reducing our environmental impact is something we are increasingly conscious of as a business, and something our customers are becoming more and more proactive in demanding from us. We take our environmental responsibilities very seriously and have taken steps recently to reduce the amount of plastic in our packaging by 95%. With our move to a new digital production process, we will see reductions in both consumables and in waste more generally.
"As well as being hugely impressed with the Jet Press as a product, we also really like working with Fujifilm, and the relationship and trust we've built with them over the years using their photographic papers, as well as their Acuity digital printers, made this investment decision even easier. We've never been a company which has responded well to aggressive sales approaches, and Fujifilm's style has always been the opposite of that – they let their technology speak for itself. They have been clear in explaining its benefits, but they have never put us under any pressure and have always remained a pleasure to do business with. We look forward to this new phase of our working relationship.
Taro Aoki, Head of Digital Press Solutions, Fujifilm Graphic Systems EMEA says: "In the 40 years in which FloriColor has been operating, there have been profound changes in photographic technology and production. Fujifilm had to revolutionise its own business to adapt to these changes and our success in diversifying our own business model makes us especially well-suited to assist FloriColor as they do the same. For Fujifilm, the innovation never stops, and the Jet Press 750S is just the latest example of how we're pushing the boundaries of what is possible. We're delighted that FloriColor has recognised the huge potential of this new technology and we look forward to introducing many more people to it in the coming months and years."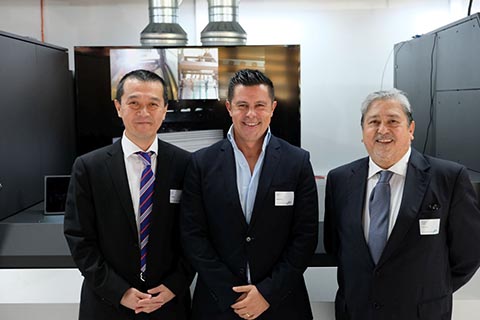 Left to right: Taro Aoki, Fujifilm; Tiago Yu and Floriano Costa, FloriColor.