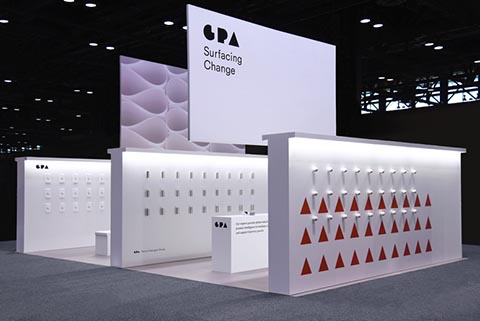 McCook, Ill – Since their beginnings in 1940, GPA has established a reputation as a substrates distributor providing value-added services to their customers. Today, the company reveals the next step in their evolution with a bold vision that reflects their growth and progress to date. By redesigning their brand experience around their vision, GPA plans to grow their business and brand value while creating a strong identity with a clear voice. In turn, this will allow them to engage more deeply with a wider audience.
With its rapid technological advancements, the printing industry thrives on innovation, growth and change, and clients need to continually adapt to stay competitive. With this in mind, GPA strengthens their status as Innovation Facilitators with iconic branding that conveys the future course of the company. This distinctive brand experience was also designed to attract, engage and entertain clients, and is expressed throughout every step of the customer journey. As a result, clients and partners will be ready to respond to market changes, increase their value and grow their businesses with GPA's agility and streamlined services.
One of the most immediately recognizable changes is GPA's logo, which has been transformed from the red, white, and black paper stack symbol used for over 20 years into a memorable, modern logotype. The logo serves as the foundation for the new visual system, which employs a series of repeating patterns to represent the essence of GPA. The color black was selected to reflect a premium brand positioning and the strength of the company's essence, which is represented by each letter of the acronym with G for the GPA group, P for the product offering, and A for best in class service.
In addition to the logotype, this initiative is expressed through new brand tools that help foster effective client collaborations, including a new website, swatchbook, brochure, and product catalogs. GPA is also introducing streamlined product brands, expanded social media, a redesigned trade show presence, and other reimagined collateral, such as bespoke sample envelopes to provide a unique customer experience.
To reinforce their innovation focus, GPA is introducing their descriptor "Surfacing Change," which embodies the company's spirit as a catalyst for bringing customers' visions to surface. At the heart of GPA's new initiative is their vision statement guiding the company's focus: "Our experts provide industry and product intelligence to facilitate innovation and support business growth."
When GPA joined the Fedrigoni Group in 2015, it became part of their world-class network of companies united by the shared values of innovation, quality, and strong customer relationships. A new focus as Innovation Facilitator aligns GPA with the Global Fedrigoni Group, allowing the overall group to service additional markets by providing a wider range of quality products. A clear and simple product-naming framework creates a strong brand perception and builds future value by combining the quality of GPA's products with their reputation for excellence.
GPA partnered with the London-based studio acanforaDesign to make this new approach a reality, working closely with Massimo Acanfora, Founder and Creative Director. With a passion for defining value through ideas, Massimo has brought brands to life for over two decades, gathering a wealth of knowledge across the fashion, beverage, hospitality, property, retail, technology, transportation, and arts industries. His work has won many international awards and competitions for some of the world's largest companies, including the Benetton Group, the Coca-Cola Company, and Valentino Fashion Group.
"We have helped unveil the future focus of this remarkable company, which has built its success on a strong foundation and continued innovation," said Massimo Acanfora, Founder and Creative Director of acanforaDesign. "We were inspired by the idea of layers of micro-particles that interact with surfaces to enhance substrates. This idea recurs as essential layers of GPA's key business assets, which help evolve the printing industry through the strength of their group, products and services. These layers of core elements are at the heart of our idea and for us, ideas build value."
"Rebranding efforts are vital to the future of any healthy and progressive business. GPA has always been a catalyst for change and we are confident that this dynamic, modern and iconic look expresses our new vision to inspire loyal clients and attract and engage new partnerships," said Bob Niesen, President and CEO of GPA. "This leap forward signifies a turning point in the conversations that we're going to have with a wider audience, and celebrates that a new era is here."