CEWE is the leading online print service provider in Europe and a prolific producer of photobooks, calendars, posters and a huge range of other personalised print products. With more than 20 factories across 14 European countries, the company serves customers throughout the continent, producing around six million photobooks in 2017 alone.
CEWE was founded in 1961, in Oldenburg, northern Germany, the location which now serves as the company's headquarters, and it was at this site, in early 2017, that CEWE installed Fujifilm's Jet Press 720S B2 inkjet press.
"Our customers demand quality, they demand near-instant delivery, and typically, they only order one copy of whatever it is that they are buying," explains Andreas Kluge, Managing Director of CEWE's Oldenburg site. "To ensure that we can deliver on all of those demands as best as we possibly can, we need a reliable and secure production line and we're continually looking to new technology to try to improve the service we offer.
"We first encountered the Fujifilm Jet Press 720S at drupa in 2016. There were a number of things that appealed to us about it: the B2 format size suited our needs perfectly, the quality is outstanding, it's a versatile machine - able to print to a wide range of substrate thicknesses - and the production costs are comparatively low.
"We had the machine installed in early 2017 and it has proven to be an excellent addition to our equipment portfolio. We're using it to produce covers for our photobooks (where its ability to print thicker substrates is hugely valuable) and we're also using it to print posters, canvases, greetings cards and a wide range of calendars.
"We've seen a significant productivity boost with the Jet Press. For example, we can print posters at fine art levels of quality much, much faster than we could in the past. What used to take us eight hours using 12 wide format machines, now takes us just two hours on the Jet Press."
Customers have also been delighted with the quality, as Kluge continues: "We produce a lot of calendars, often for professional or semi-professional photographers, and they are consistently delighted with the level of quality we can achieve for them thanks to the Jet Press."
But it's not just about doing the same things better and faster than before. With the Jet Press, CEWE is now able to deliver completely new product ranges: "Personalised advent calendars are big business for us now - and something we couldn't have produced before we made our Jet Press investment," Kluge adds. "The thickness of the substrates we can print on now and the nature of the Jet Press inks mean that we can produce three dimensional advent calendars with chocolates inside. These have proven to be a popular and valuable addition to our product offering."
Kluge concludes: "Overall, we've been delighted, both with the machine, which we'd have no hesitation in recommending as a perfect digital printing device, and with our Fujifilm partnership. Fujifilm has been excellent to work with throughout the whole process, working with us very closely in particular as we experimented with various material types to get maximum value and benefit out of the machine."
Dirk Mussenbrock, Business Development Manager, Fujifilm Graphic Systems Europe concludes: "The CEWE brand is well-known and respected across Europe, and in Germany in particular. We're delighted to have been able to help them to deliver even more value to their millions of customers with a machine that remains the clear frontrunner in its field."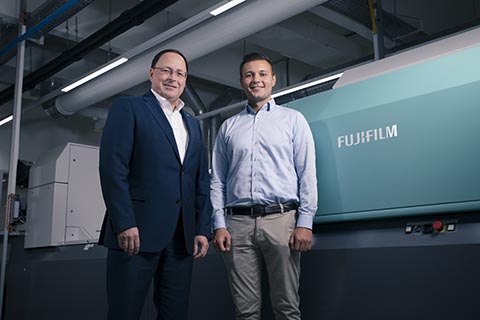 Andreas Kluge (left) and Michael Markow (right).