Scott Blitz, former president of Arizona Office Technologies joins Flex Technology Group as Vice President of Marketing to strengthen company's leadership team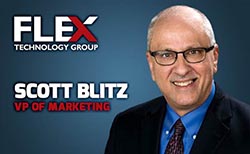 Phoenix, Ariz. – Flex Technology Group (FTG) has announced the expansion of its executive team with the addition of Scott Blitz as Vice President of Marketing. This addition to FTG's executive team comes at a time when the company is experiencing hypergrowth and aggressively expanding across the country. Scott will support FTG's ongoing growth and scale by forging closer relationships with our OEM partners and managing the brand across the country.
"Our vendor partners are critical to our growth, and one of Scott's primary areas of responsibility will be to work with them to ensure we are maximizing their capabilities so that Flex Technology Group provides the highest possible service wrapped around the best product portfolio for our customers," said Tom Callinan, President of Flex Technology Group.
Scott brings to FTG more than 25 years of industry leadership having previously served as the president of Global Imaging System's Arizona Office Technologies (AOT), a Xerox subsidiary. Prior to his time at AOT, Scott was a regional sales manager for Sharp Electronics and an area sales manager at Danka Office Imaging, subsequently acquired by Konica Minolta.