Hanover Park, Ill. – FUJIFILM North America Corporation, Graphic Systems Division's innovative superwide and wide format inkjet solutions attracted large crowds at SGIA Expo 2018 in Las Vegas.

With more than 24,000 industry professionals at the show, an impressive amount of attendees experienced new and advanced Fujifilm technology within its 'Win even more work' themed booth, resulting in successfully signed contracts.
International Label & Printing Co., Inc., an Elk Grove Village, Illinois-based print service provide purchased an Onset X3, a high throughput, wide format UV flatbed inkjet printer, with three-quarter automation.
"We have been impressed with the Onset X3 since we saw it at SGIA Expo 2016," said Mark Turk, president and CEO, International Label & Printing Co., Inc. "Adding the Onset X3 to our complement of equipment is a great way to vastly improve the quality and timeliness of our products. We are confident this press will do an outstanding job in helping us continue to take good care of our customers."
Additional digital inkjet presses sold and shipping directly from the show floor to customer locations across the U.S. include the OnsetM, Acuity Select 20 Series and the Acuity LED 1600R.
"Fujifilm experienced tremendous success at SGIA Expo 2018," said Todd Zimmerman, division president, FUJIFILM North America Corporation, Graphic Systems Division. "Looking to the future, we eagerly anticipate PRINTING United, and are proud to be a sponsor and exhibitor at the inaugural show in Dallas next October, showcasing Fujifilm as a total-solutions provider within Commercial, Packaging, Industrial, and Sign & Display segments."
To find out how Fujifilm Graphic Systems Division can help businesses meet future challenges, improve quality and reduce costs, please visit: www.FujifilmInkjet.com.
For more information about International Label Solutions, please visit: www.internationallabel.com.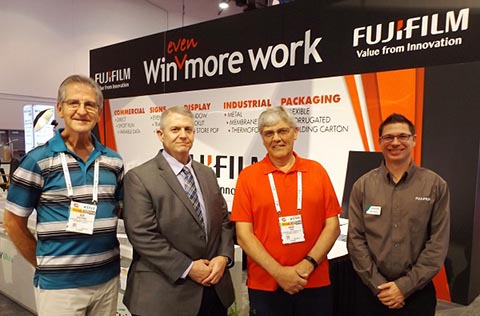 Pictured left to right, Bob Gorzynski, Executive VP and CFO, International Label Solutions, Paul Lynaugh, VP Sales, North America Sales, Fujifilm, Mark Turk, President and CEO, International Label Solutions, and Jason Kammes, High Speed Inkjet Sales Manager, Fujifilm.