Sydney Stone is proud to announce that, effective November 1st, 2018, the company will officially become the Exclusive Distributor of Xanté products in Canada. Sydney Stone will continue to sell Xanté products directly as well as through the existing network of Canadian dealers.
Sydney Stone is one of the premier Canadian distributors of Print Finishing Equipment and Supplies in the industry. As a Master Importer for some of the finest manufacturers of Print Finishing equipment in the world, we have significant experience in importing both machinery and related consumables, allowing us to leverage our distribution network in Canada to its maximum potential.
"Sydney Stone is very pleased to be adding the Xanté range to our fold of customer offerings. The new En/Press combines industry-leading 4800 DPI resolution with the lowest consumable cost in the market category. This is going to give our customers the chance to improve in-house productivity and, above all, profits."
- Michael Steele, President, Sydney Stone
"With their commitment to selling both equipment and supplies, Sydney Stone is the ideal company to represent Xanté in Canada. With warehouses and showrooms in both Toronto and Vancouver and 24-hour online ordering, we know that Xanté in Canada is in good hands."
- Mark Priede, Vice President of Sales for the Americas, Xanté Corporation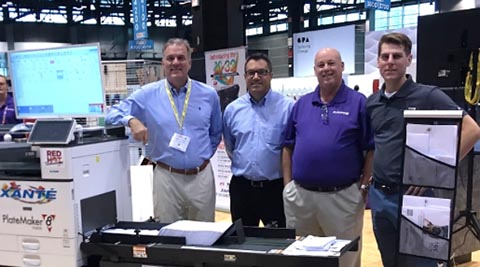 Left to Right: Robert Ross, President & CEO of Xanté; Michael Steele, Director of Sydney Stone; Mark Priede, Vice President of Sales for the Americas at Xanté; Dylan Westgate, Director of Sydney Stone.