Rileys of Calgary, Alberta Canada was named the ReproMAX 2018 Partner of the Year and HP was named Vendor of the Year at the ReproMAX conference held in Las Vegas, Nevada. Each award was voted on by over 100 ReproMAX Partners who are considered the industry's largest and most progressive wide format print service providers. Each company faced significant competition in both the Vendor and Partner award sectors. The recipients are selected via a ReproMAX Partner vote.
Each year, the Partner of the Year award is presented to a leading ReproMAX Partner company that actively participates with and contributes to ReproMAX and their Partner companies, demonstrates technical and process innovation/adaptation and employs generosity towards company employees, customers, the community, and the industry. Wade Sparks, President and CEO of Rileys accepted the award and said, "Rileys is extremely humbled, and very proud to accept the ReproMAX 2018 Partner of the Year award. We truly owe this success and more to the ReproMAX community… the most important principle in ReproMAX is information exchange with great partners. It is this principle, along with continuous education, research and development, and the buying power of ReproMAX that has helped Rileys reach its current success." Past recipients include Beeline and Blue, Capital Imaging, Duncan-Parnell, Franklin Imaging, BluEdge, KalBlue, Barker Blue and Thomas Printworks.
HP faced enormous competition from other large corporations. They exhibited to ReproMAX Partners their ability to meet and exceed expectations in the areas of equipment technology and support on a regular basis in 2018.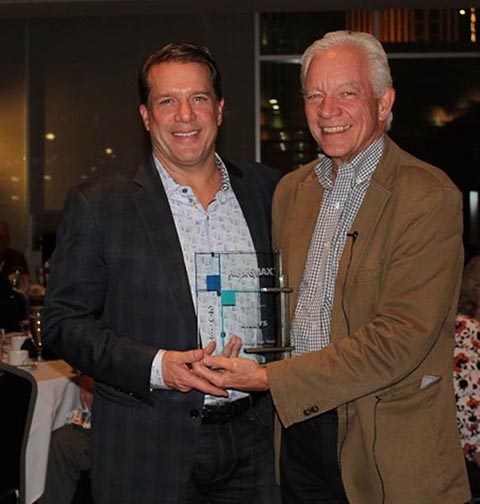 Wade Sparks, President and CEO of Rileys accepts the Partner of the Year Award from Rick Bosworth, President of ReproMAX.