In today's hectic and time-pressured world, zero-fault packaging is the Holy Grail of packaging production. Most companies no longer have the luxury of Quality Control personnel carefully checking their packing and filling process – ever-tighter margins and increasing competitions have seen to that. So instead, packaging must be – in theory – fault-free on arrival. The onus for quality assurance has shifted from the goods producers and packer-fillers to the packaging manufacturer.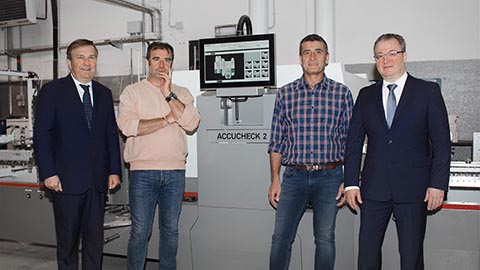 From left to right: Marco Locatelli (Local Sales Manager Bobst Italy), Sandro Ferroli (Owner of Cartograf), Claudio Ferroli (Owner of Cartograf), Claude Tomà (Product Support Manager Bobst Mex)
For a packaging manufacturer like Cartograf GS, whose primary focus is in the pharmaceutical industry, this topic is particularly pertinent. The need for zero-fault packaging is even more emphatic in pharmaceuticals, where mistakes on packaging can have significant consequences. "Our company was founded in 1977. We initially specialized in the paper packaging sector, and in the 1980s we gradually integrated the pre-printing and printing units," explained Claudio Ferroli, Owner of Cartograf. "Today, our activity is mainly based in the pharmaceutical and general packaging sector, and we are looking to move further into the cosmetic and perfume sector. For all of our customers, fault-free packaging is an absolute must." Luckily for Cartograf and other packaging manufacturers around the world, zero-fault packaging is at last a reality.
100% fault-free brings complete peace of mind
BOBST has developed a new quality control system, offering manufacturers the possibility to produce zero default boxes. ACCUCHECK 2 is a new in-line solution to inspect carton blanks for defects as they enter the BOBST folder-gluer. It is compatible with the latest generation of MASTERFOLD 75 / 110 or EXPERTFOLD 50 / 80 / 110 machines.
It carefully checks carton blanks for defects and guarantees complete quality consistency at speeds up to 350 m/min. Based on the 30-year experience of BOBST's Registron technology, this highly flexible tool allows users to inspect different box areas according to manufacturer's – or their client's – quality criteria, while remaining easy and quick to operate.
And because ACCUCHECK 2 is an in-line solution, which is fully integrated into the folding-gluing system, it is a seamless progression, with no additional quality control step in the process required. As a result, the production quality process has been improved while quality check running costs have been reduced.
For a company like Cartograf, which places a heavy emphasis on customer service and flexibility to satisfy its clients' requirements, particularly around timing and quality, zero-fault packaging production brings considerable benefits. "We chose ACCUCHECK 2 because we believe it is indispensable for the pharmaceutical sector," said Mr Ferroli. "We are now able to produce packaging without defects without impacting deadlines. This increases the prestige of our company and allows us to win new clients in an ever more competitive market, where quality demands are constantly on the rise."
State-of-the-art technology – but simple to use
Inspection capabilities of ACCUCHECK 2 include stable and accurate color measurement and extended text inspection, regardless of text pose or color. Defective boxes are ejected automatically, with 100% quality-controlled production. It enables quality control reporting according to customer validation targets.
"We really value the control functions, such as the conformity report," said Mr Ferroli. "In this report, important production data can be visualized: waste, type of defects detected, production time and others. This is very important, because it guarantees zero-fault production up to 120,000 boxes per hour, and gives our customers peace of mind and reduced costs for quality control. This level of productivity is also a perfect fit with ACCUBRAILLE GT, for Braille embossing, which runs at 115,000 boxes per hour."
The machine is also easy to use. ACCUCHECK 2 is equipped with the HMI SPHERE, which provides several operating modes for customized setting and easy operation. This feature is becoming standard on new BOBST machines. Also, inspection parameters can be saved and recalled, with repeat orders set within seconds. Access rights can be set for different users.
"We do not need to do any controlling or sorting during the folding-gluing process and we are certain that the clients will receive a zero-fault quality product," said Mr Ferroli. "We can also customize the levels of the control sensitivity and give our clients a quality level that is made to measure for them. It is an excellent machine, reliable, very simple and fast to set-up and run."
The latest milestone in a long partnership

Cartograf knows it can rely on BOBST machinery, having trusted in various models for over 20 years.
"First, we worked in the folding-gluing unit with MEDIA III, EXPERTFOLD and MASTERFOLD, then we used NOVACUT 106 E and the new NOVACUT 106 ER for die-cutting," said Mr Ferroli. "We also own a SPERIA 102 for hot-foil stamping. We have always had an excellent relationship with BOBST – it is a trustworthy company, always ready to respond to our requests for technical support or finding solutions for production issues. We will continue to trust in the research and development of new innovative solutions from BOBST in the future."