Milford, Ohio – At the association's recent Annual Meeting in Florida, Joel Carmany, President of Consolidated Label, was named TLMI Converter of the Year. Presented in conjunction with packagePRINTING magazine on an annual basis, the Converter of the Year Award honors and recognizes a member of the North American package printing industry who has made an extensive contribution to the greater marketplace and who has additionally demonstrated an unwavering commitment to TLMI.

Thirty-four years ago, Joel Carmany purchased a fledgling label company on the outskirts of Orlando, FL. At the time, the company's sole application was hot-stamped pressure sensitive labels. Today, Joel stands at the helm of one of the most prominent, and profitable, narrow web packaging companies in the North American marketplace. Consolidated Label was one of the earliest Internet-based label-printing providers. Joel and his son, David Carmany, had the foresight to know that bringing ordering capability online in a time when nearly no other label converters in the country were positioning themselves that way, would be an innovative and winning strategy.
Joel's support and dedication to TLMI, and to his fellow TLMI members, has been unwavering and his company's growth and success unprecedented. He has served a term on the TLMI Board of Directors and Consolidated Label has won the coveted Eugene Singer Award for Management Excellence 16 consecutive years. TLMI President, Dan Muenzer, comments, "I cannot think of a TLMI converter more deserving of winning the Converter of the Year Award than Joel Carmany. Since joining TLMI, he has had an open-door policy, hosting other TLMI converter members at his company in Florida and allowing them to see his operation up close. The list of converters who have visited Joel and benefited from spending time with him is long. He is well known for his candid and rare openness, and for being a gifted mentor and friend to any converter in need. Consolidated Label has become one of our industry's most-used synonyms for success, and I congratulate Joel for being awarded this well-deserved honor."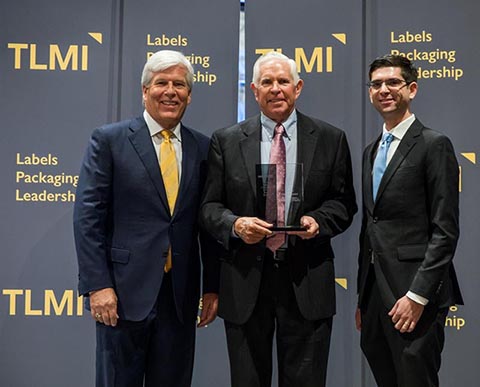 Craig Moreland, TLMI Chairman, Joel Carmany, President of Consolidated Label, and Cory Francer, packagePRINTING.