Most reliable CtP-system proves to be even more stable
Lifecycle solutions improve customers' Return on Investment
Digital workflow through Heidelberg Cloud for remote service support
The print media industry is changing and so are the needs of the print shops. To be competitive they have to significantly increase productivity through a coordinated system that enables maximum availability. Heidelberger Druckmaschinen AG (Heidelberg) is the only manufacturer who offers equipment, consumables, service and software solutions that are fully integrated to provide a Smart Print Shop. Last fall, the Consumables and Services divisions at Heidelberg were merged to form the new Lifecycle Solutions division. The new division will offer customers additional packages beyond the existing product portfolio, including services, application know-how and consumables, over the entire lifecycle of the machine. In this way, the customer improves his productivity and competitiveness.
One step in this direction is the launch of a "lifetime" laser head warranty for all new Suprasetters sold from April 2018. "Suprasetter laser heads have proven to be so reliable that Heidelberg is extending the Ultimate 7 program to "lifetime", says Glenn Plummer, head of Lifecycle Solutions Business Management Prepress. "We have utmost confidence in our technology to support our customers with this huge benefit and additional security for their investment", he adds.
Heidelberg has manufactured imagesetters since 1995 – the most successful is the Suprasetter with over 7,000 installations since its inception in 2004. With 6 formats in the family, the thermal unit covers a broad application base with speeds from 17 to 55 pph and many options for connectivity and plate handling automation. The compact internal punching system ensures a small footprint and accurate register every time.
The heart of the unit is the laser head which continues to lead the market for reliability and performance. In 2006 Heidelberg established the first of its kind 5 year laser warranty under the well-known "no worries" program. Confident to pass onto customers the experience and benefit of the very reliable laser technology, Heidelberg followed up in 2009 with the "Ultimate 7" laser warranty. There is no plate count limitation.
Digital workflow with Heidelberg cloud for remote service support
As with Ultimate 7 customers must ensure the Suprasetter is connected to the Heidelberg Cloud for remote service support and is always maintained and repaired by Heidelberg approved technicians. The lifetime warranty can be supported by a Service Contract covering the whole unit if desired and will be included in a Heidelberg plate purchase agreement at no extra charge.
"We will kick off a sales campaign from October, talking to existing users to renew older Suprasetter units and encourage new customers or those with competitor units to invest to secure this extremely attractive deal. We also decided to retrospectively offer it to customers that already purchased in this financial year (from 1st April 2018) to be fair to those that recently installed a Suprasetter and also want to take up the offer", explains Glenn Plummer.
The sales campaign will be realized by the "Heidelberg Digital Unit", a competence center for digital marketing and eCommerce. It will also go hand in hand with a guaranteed buy back scheme for used Suprasetter units. All Suprasetters traded in under the lifetime plan will attract a minimum of €3,000 and up to €4,500 trade-in depending on the age and format size. The only condition is that the unit is working prior to de-installation.
The offer applies world-wide to all countries and all customers. For a quote or more information please go to www.heidelberg.com/lifetime-laserhead.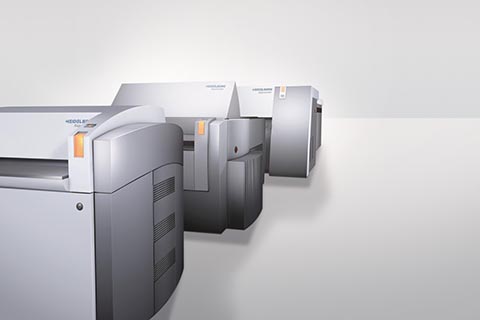 The Suprasetter family consists of the Suprasetter A75 (4-up), Suprasetter 106 (8-up) and Suprasetter VLF (up to 1,915 mm width).