On the 17-20th of September Coloreel introduced their instant thread coloring unit for the European market at the fair Avantex in Paris. This was a big milestone for the company and official sales start of the Coloreel unit for all European distributors.
The product launch of Coloreel's instant thread coloring unit and the included colorization software Coloreel Studio got a curious and overwhelming reception at Avantex. Over a thousand visitors came by the Coloreel stand to learn more. Embroidery producers, digitizers, designers and apparel manufacturers including high-level brands were very impressed by the Coloreel unit and many requests to buy the revolutionary product were made.
"FINALLY, after many years and so much hard work, we have now launched our first product! The market response is exceptional and it's very inspiring that people came to Paris from all over the world just to meet with us," says an ecstatic Joakim Staberg, Founder and Innovator at Coloreel.
Coloreel distributors, leading brands in the apparel industry, partners and end-customers came to celebrate this historic product launch with the Coloreel team
"I feel proud and happy, all the visitors were impressed, both the ones we have had contact with earlier and the new ones we meet for the first time. We have every feature people ask for in the Coloreel unit and that feels great, "says Magnus Hellström,"VP Sales & Marketing at Coloreel.
The Coloreel unit will bring the embroidery industry to a new level
Coloreel provides the possibility of making fantastic embroideries with amazing quality. The customers will be able to create new unique embroideries that no one has seen before.
Coloreel offers improved logistics because the customers will only need one thread, but can get unlimited colors.
Embroidery production speed will increase for producers with no trims needed for the color changes.
Coloreel reduces waste of resources by only producing the thread you need and minimizing water usage.
"We have the whole package, a unit that colors thread instantly in a more sustainable way and a colorization tool to create amazing embroidery designs. It is now clear; we will truly revolutionize the whole embroidery industry," says Mattias Nordin, CEO at Coloreel.
Future for Coloreel
Shipping of the Coloreel units to customers in Europe will start at the beginning of 2019 with the USA following. The next step for Coloreel is to broaden the distribution in a very quality assured and service-oriented way. The product launch of the instant thread coloring unit was a clear indication that the whole world is longing for this product.
The Coloreel distributors will exhibit at the following fairs and demonstrate the instant thread coloring unit.
Print in Progress, Paris 10-11 October 2018
Futurmoda, Alicante, 17-18 October 2018
Viscom, Milano 18-20 October 2018
Viscom/PSI/Promotex, Düsseldorf 8-10 January 2019
Printwear and Promotion, Birmingham 20-22 January 2019
C!Print, Lyon 5-7 February 2019
For more information about Coloreel, visit www.coloreel.com or contact:
Mattias Nordin, CEO at Coloreel, [email protected], +46 708 558 557
Magnus Hellström, VP Sales & Marketing at Coloreel, magnus.hellstrom at coloreel.com, +46 709 501 620
Joakim Staberg, Founder and Innovator at Coloreel, joakim.staberg at coloreel.com,+46 708 502 502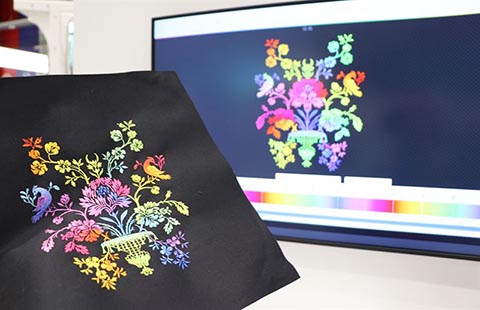 Coloreel Studio.