To build a great company, it takes great people. People that work hard, are team players, willing to learn new skills and change with the times to consistently add value. When you consider that one among us has done this for 44 years, its more than impressive, it's cause for celebration. September 30th 2018, is a milestone in PCI Group's history as we celebrate the retirement of our longest tenured employee, Mary Miller.
Mary came to PCI Group, then Players Computer Inc., in 1974 as a data entry and keypunch operator. From the start, Mary set a standard of excellence with her ability to key in 20,000 keystrokes per hour with unprecedented accuracy. Mary was also part of the team that originally worked on some of the company's most monumental projects for the State and City of New York, developing the first database of land titles for Bronx, Brooklyn and Manhattan counties; creating a birth certificate database from 8 million original birth certificates for individuals born in Manhattan over a 100-year period; and, building a database of 6 million blood donor cards for NYC Health Department and Hospitals.
Over the years, as the company grew and the landscape of technology changed, Mary learned new skills, taking on new tasks and responsibilities to keep her skills up to date. In 2008, she willingly relocated with the company to our current location in Ft. Mill, . What a great example she has set for others in our company of what hard work, determination and a willingness to learn can do to not only stay relevant, but to excel.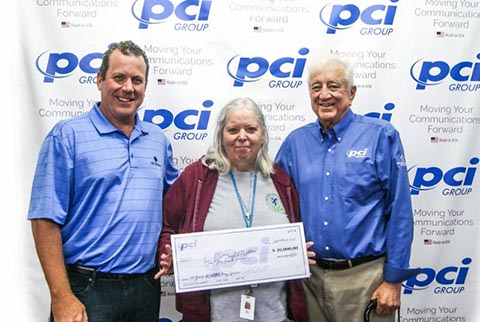 Pictured Above (L-R): Chris Kropac, Jr., Mary Miller, Chris Kropac, Sr.
On Monday, September 24th, we celebrated Mary Miller, a friend to everyone in the company, a source of inspiration and a smiling face to all who passed through PCI for the past 44 years. PCI Founder, Chris Kropac, Sr., who originally hired Mary, began the celebration by sharing several memories of Mary's work and her dedication to the company.
CEO and President Chris Kropac, Jr. concluded the celebration by also highlighting more fond memories of Mary and what she has meant to the company. He also presented Mary with a $10,000 check for her years of dedication and loyalty. Many laughs and tears were shared among employees at the ceremony as they reminisced of times spent working with Mary. No doubt, there will be an empty space within the four walls of PCI Group when Mary's last day arrives.
It is a bittersweet moment for everyone at PCI Group. We are sad to know we won't see Mary as we pass through the hallways, but we rejoice as she enters this new chapter of her life.
Congratulations Mary Miller!