HP's water-based inks, waste reduction, and operational efficiency a good match for Vanguard - 'the most sustainable packaging company in North America'
Kansas City, Mo. – Vanguard Packaging today announced the purchase of its first HP PageWide C500 Press for the mainstream production of digitally printed corrugated packaging and displays. Scheduled for installation in November 2018, Vanguard's HP PageWide C500 will deliver its brands the new benefits of high-quality digital post-print.
The HP PageWide C500 purchase follows just a year after Vanguard's installation of an HP Scitex 15500 Press for its digital display business. While more than 70% of Vanguard's business is in retail display, the HP PageWide C500 will open more opportunities for high graphics corrugated packaging while simultaneously complementing its existing point-of-purchase display business.
Vanguard is expanding its Kansas City operations with strategic investment in state-of-the-art packaging conversion technologies. To operationalize this investment, Vanguard is adding 50,000 square feet to its current production facility and leasing a new 50,000 square-foot building dedicated strictly to digital print, with the C500 as its centerpiece. The company is also investing in a new Apstar rotary die cutter to increase its conversion productivity and efficiency.
With the PageWide C500's single-pass thermal inkjet technology and direct-to-board advanced media handling, Vanguard will optimize its entire production floor with the flexibility to print one to thousands of boxes even with last-minute changes. Vanguard's clients can run quick packaging and display campaigns in offset quality without the need for lamination. Consistently superb quality is possible on both coated and uncoated papers. Sharp text and barcodes, along with smooth tone transitions vivid colors, are hallmarks of the C500's litho-substitutable quality.
The press' approximately one million nozzles with 6x redundancy reduce nozzle-out lines often found in alternative piezo inkjet technologies. The C500's unique Corrugated Grip technology offers superior handling of industry grade boards for smooth production flow while its Virtual Belt technology delivers accurate media motion for high quality digital print.
Food safety is a key pillar of Vanguard's packaging quality strategy. "We are committed to providing our clients with the industry's leading solution for primary and secondary packaging of food, beverage, and sensitive products," said Mark Mathes, CEO, Vanguard Packaging. "After researching other inkjet presses using UV-curable inks, we have the highest confidence in HP's true water-based inks to provide our clients with a robust and trusted digital solution."
HP's water-based inks meet stringent food safety requirements like Nestlé guidance, Swiss Ordinance, EuPIA, and USDA FDA 21 CFR.
'Sensitive' packaging applications are those in which odor, health, and safety concerns increase the appeal of HP PageWide's odorless water-based inks. Sensitive products include pharmaceuticals, cosmetics, pet foods, infant care, toys, and personal care. Increasingly, brand owners in these product categories are looking at Nestlé and Swiss Ordinance food-safety requirements as a foundation for their non-food product packaging. "For our digitally printed packaging, we just don't want the migration or odor risks associated with inks using photoinitiators," said Mathes. "We only trust water-based inks."
To further strengthen its strategy for food package printing, Vanguard qualified for three ISO certifications as well as British Retail Consortium (BRC) Standard for Food Safety, which is a GFSI benchmarked standard.
Learn more about the HP PageWide C500 Press at hp.com/go/C500.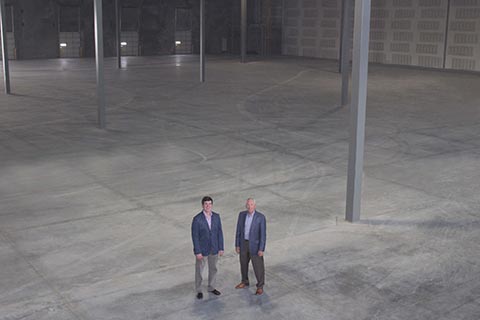 Vangaurd ready for arrival of HP PageWide C500 in new Kanas City corrugated site. Pictured: Mark Mathes, CEO, Vanguard Packaging, and Justin Mathes, Director of Sales.