Bergisch Gladbach/Germany – Ten years after the successful product launch Tecco showcases how to create individual high-quality photo books at Photokina (Cologne, September 26-29, Hall 3.1, Booth D34). In addition, Tecco presents new state-of-the art Baryta and FineArt papers from its photo line for the first time worldwide.
Highlight: »10 Years Tecco Books«
Tecco celebrates: "10 years Tecco Books", the first high quality photo books, as Do-It-Yourself version and as service in a Tecco Certified Printing Center (TCPC). Details: https://tecco.de/tecco-certification-of-excellence.
World Premiere: Four high-class Photo Papers
Tecco responds to the growing requirements of the Photo and FineArt market:
- Completion of its range of Baryt qualities
- Extension of the matt cotton papers
- Supplementation of double-sided PE papers
Two additional Baryta grades (matt and satin) and a slightly structured cotton rag round up Tecco's premium range. Besides that Tecco reacts on the growing demand of DUO papers and introducess a new double-side coated Luster paper.
Papers in Detail
Tecco Photo BTM275 Baryt Matt is a bright white paper. It has a finely textured surface structure and consists of 100% alpha cellulose. The print gives the matt paper a slightly silky gloss.
Tecco Photo BTS300 Baryt Satin is a satin inkjet paper. It has the classic look and feel of a traditional silver halide barite paper. The 300 g/m• heavy photo paper is pH neutral and therefore extremely resistant to aging. It is equally suitable for black and white and color prints.
Tecco Photo PCR310 Premium Cotton Rag is a slightly textured, 310 g/m• cotton paper. It is well suited for high-quality Fine Art prints, is acid-free and therefore extremely resistant to aging and light.
Tecco Photo DS325 DUO Satin is a double-sided coated PE paper. With its smooth satin surface and exceptionally large color space, it is the ideal paper for professional photo albums and greeting cards. The 325 g/m• photo paper allows printing on both sides.
As usual, and color compliant towards their corporate design, Tecco invites every Photokina visitor to a freshly squeezed orange juice.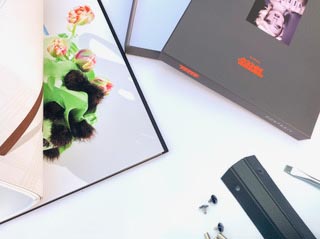 Tecco: Do-It-Yourself photo books and new art print papers.
Contact and Information: http://www.tecco.de https://www.facebook.com/teccopaper https://tecco.de/de/the-tecco-certification-of-excellence