New system brings higher speeds, precision cutting, and additional efficiency to the production line

SoOPAK, a leading North American short-run offset packaging specialist, has boosted its output in its post-press department with the installation in late June of a new MK Promatrix 106 CS die cutting and embossing system.

"As a specialist in short-run packaging, SoOPAK takes great pride in its ability to deliver fast turnaround times for our diverse customer base," says YaJun (Carol) Jiang, president of SoOPAK. "In our effort to continually meet and exceed the expectations of our customers, we are always investing in our business with new technology. The MK Promatrix 106 CS provides us with additional speed and efficiency to deliver faster turnaround times for our customers. The MK Promatrix 106 CS is able to output more orders at 8,000 sheets per hour with short set-up times as opposed to our older system that could output 7,700 sheets per hour."

SoOPAK is using its MK Promatrix 106 CS die-cutting and embossing system to cut excess paper, produce custom dies, and fabricate embossing details for its customer's print packaging projects. Since SoOPAK produces a variety of packaging, the new Promatrix 106 CS's ability to handle substrates from 65-lb text to 48-pt board and offer a maximum sheet size of 29.92 x 41.7-inch provides greater flexibility. The cutting section on the machine contains a thin plate and micro adjustment in which no hand tools are needed to unlock the cutting tools.

SoOPAK chose the new MK Promatrix 106 CS due to its smart automation and intelligent operator support. Its post-press team appreciates all of its features because it gives them additional time for other important tasks such as production monitoring, speed optimization, and quality control. SoOPAK operators are finding much faster productivity due to the MK Promatrix 106 CS's non-stop delivery with rolling carpet, elevation kit and miniature carton attachment, gripper reopening in case of misaligned sheets, and adjustable electro-mechanical double sheet detection. Machine operators are given more time for production monitoring and quality control due the MK Promatrix 106 CS's motorized cutting pressure adjustment and nonstop delivery with rolling carpet.

Fast turnaround is an important component to satisfy SoOPAK's customers. The new Promatrix 106 CS is equipped with a non-stop feeder, belt table with suction belts and central roller and brush adjustment, register system up to the stripping station, and cutting plate fine adjustment in the cutting station. Quick lock frames with fine adjustment in the stripping station guarantee short set-up times. Faster makeready is improved by a quick lock chase.

SoOPAK is a leading manufacturer of short-run package production starting at 500 pieces. The firm offers custom food packaging, incorporating unique shapes, sizes and styles to meet a food vendor's needs. Equipped with the most high-tech printing and post-press equipment and an experienced team, its products are of the highest quality, and are developed and delivered within 15 business days (or five to 10 on rush orders). Its high level of integration in product capabilities includes in-house prepress services, plate making, UV coating, embossing, and windowing capabilities. SoOPAK's production process is extremely efficient and highly customizable making it the preferred choice for businesses across North America. SoOPAK offers its services to small business owners and large-scale corporations with some of the most competitive prices in the industry.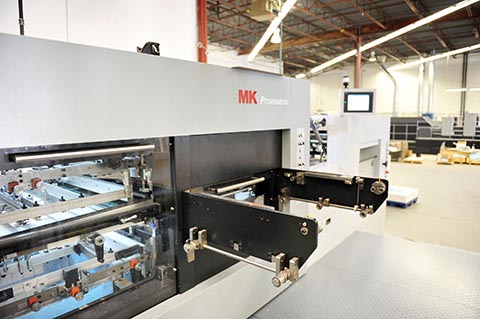 SoOPAK, a leading North American short-run offset packaging specialist, has installed a new MK Promatrix 106 CS die cutting and embossing system.