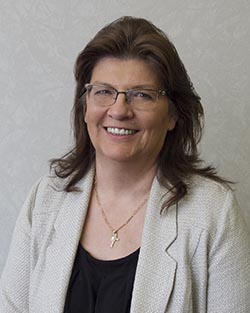 Morton Grove, Ill. – Quantum today announced that Quantum chief executive officer Cheryl Kahanec has been named to the 2018 Printing Impressions/Rochester Institute of Technology (RIT) Printing Industry Hall of Fame.
Kahanec, a top industry innovator who joined Quantum in February 2018, has more than 35 years of experience in the marketing communications and digital print industry, including transitioning traditional print companies into early digital success stories. She has driven Quantum's strategic vision to continue to develop integrated and innovative solutions to help marketers succeed in today's technology and data-driven marketplace.
"Being inducted into the Printing Industry Hall of Fame is a great honor," said Kahanec. "We are fortunate to be in an industry that changes all the time – it presents a new and unique challenge every day. Being a part of this industry is such a joy, and I am flattered to be inducted into the company of so many other respected colleagues."
Kahanec is active on numerous customer advisory councils, helping to lead product and service development for industry leaders such as HP, Canon and more. In 2016, Kahanec was inducted into the Ben Franklin Honor Society of Printing Industries of America. She has also been honored as a "Florence Joachim Woman Executive of the Year" and with the Printing Industries Alliance Franklin Luminaire Award. She has also been named one of Outputlink Communications Group's "Women of Distinction" and is a recipient of the Printing Industry of America's "Naomi Berber Memorial Award."
The Printing Impressions/RIT Printing Hall of Fame, now in its 34th year, recognizes leadership in the printing industry across the nation. The names of this year's honorees will join the ranks of past inductees on display at RIT's School of Media Sciences and were profiled in the July issue of Printing Impressions.