Madison, Wis. – BST North America will showcase its comprehensive range of quality assurance products for label printing and the narrow web market at Labelexpo Americas 2018. This large event for the label and package printing industry will take place, from September 25-27, 2018 at Donald E. Stephens Convention Center in Rosemont, Illinois.

The product fields 100% inspection, web monitoring and web guiding will be the main topics at the booth of BST North America and its subsidiary AccuWeb (Booth 837). At the joint exhibition booth, visitors will find a comprehensive portfolio of solutions that seamlessly cover the label industry's numerous technical and economic challenges that arise with the web-oriented manufacture of labels. Solutions will be presented that were developed in close contact with customers, both tried and tested solutions as well as newer ones. The inspection systems, the quality assurance systems in the iPQ family, as well as the web guiding systems combine to offer an extensive portfolio of products for all needs in terms of ensuring and controlling quality in web-oriented processes.
"We provide customers in the label and package printing market with a comprehensive portfolio of solutions for quality management in their production operations. Their experience with our systems is that they are reliable and simple to operate, delivering the benefit of fast machine setup times. At BST North America, customer service not only means listening to our customers, but also providing solutions and support," stated Mark Lambrecht, President of BST North America, to explain Labelexpo attendees interest in the company.

Systems for Quality Control
During Labelexpo Americas 2018 visitors to the BST North America booth can see the company's full line of 100% inspection and web monitoring solutions: the SUPER HANDYScan 4100 and the POWERScope 5000. Launched in the North American market at the last Labelexpo, the POWERScope 5000 features an extremely high level of operating convenience. It can be operated via the hotkeys of the external keyboard or using the intuitive gesture control of a multitouch monitor. In both cases, operation is reduced to the essential functions, providing maximum user friendliness. The web monitoring system also features a wear-free electronic zoom and outstanding image quality thanks to the high-resolution camera and LED flash. On the same moving web demo, BST North America will introduce the updated SUPER HANDYScan 4100. While the camera unit, monitors, cables and synchronization remain the same, the SUPER HANDYScan 4100 features a new state-of-the-art controller. The new controller includes an updated user interface, startup screen, and as an added benefit every controller includes TeamViewer for remote access.

A SHARK 4000 Lex system for 100% inspection and the TubeScan eagle view inspection system will also be exhibited in the BST North America booth. SHARK 4000 Lex has been developed especially for a variety of uses in the narrow web and label printing industries. The easy-to-use SHARK 4000 Lex reliably detects smallest defects in real-time and is suitable for web widths up to 600 mm. The 100 % print inspection system for use on rewinders and narrow-web printing machines, stands out due to the well-engineered technology, extensive range of functions and comprehensive defect management software.

TubeScan eagle view combines 100% print inspection with web monitoring, enabling seamless printing error monitoring. With the new QLink Workflow, the company has expanded its TubeScan product portfolio and has concentrated on synchronization, data handling and error editing. This solution was developed for customers who use the TubeScan system on print and cutting machines in parallel. With QLink, TubeScan systems can be used for the automatic control of cutting machines and stand-alone 100% inspection systems. Labelexpo attendees can see both the SHARK 4000 Lex and the TubeScan in action on a rewinder in the BST North America booth.

To complete the full line of 100% inspection Labelexpo visitors will see a running demo of the iPQ-Check module in Rosemont. The iPQ-Check is part of a modularly-constructed system that offers extensive possibilities for quality assurance in order to target the best production results. The abbreviation iPQ stands for "increasing Productivity and Quality" in the production process. The module for 100% inspection is called iPQ-Check, while iPQ-View covers digital video web monitoring tasks and iPQ-Spectral is a tool for inline spectral color measurement. iPQ-Workflow integrates these three modules into a common quality assurance process which creates the basis for the continuous optimization of print processes. The iPQ-Center reliably recognizes and records errors, so machine operators are in a position to quickly and easily intervene in the process and correct settings.

Web Guiding for Process Control
In the field of web guiding, the BST North America booth at Labelexpo Americas 2018 will include reliable and configurable solutions that customers worldwide rely on. They cover virtually all of the technical and economic requirements of the narrow-web market. The extremely simple operation of the systems via the various controllers is a key reason why many customers decide in favor of the company's web guiding systems, especially in the label printing industry. The operators can see at a glance whether the materials are being accurately controlled, and can intervene quickly if the need arises.

BST North America will be showing a CLS Pro 600 digital line and contrast sensor and a CompactGuide with a Wide Array sensor. With its wide field of vision, this sensor provides web guiding options that begin where web edge sensors reach their limits, as in the case of alternating web widths, for example. Thanks to the sensors' wide measuring range, manual adjustment is a thing of the past. The high-performance CompactGuide can be configured flexibly. In narrow-web printing, it is the most frequently used web guiding system in the world. And BST North America will be exhibiting an EcoGuide that lives up to its name: it is particularly economical to operate. This web guiding system can also be individually configured to meet a variety of requirements.

Special highlight will be the new AccuNET controller from AccuWeb. With intuitive operation, faster response and a higher-resolution graphical display, the flexible touchscreen of the new contoller offers maximum operating convenience. The new system provides support in all the areas where it makes sense to use a touchscreen – during setup or for direct data input, for example. Its keys feature "tactical feedback" to prevent incorrect operation. The new AccuNET is 100% compatible with all point source and WideArray edge detectors. The AccuNET controller will be part of a moving web demo in the booth at Labelexpo Americas, where visitors can see real-time demonstrations of web oscillation, guide point adjustment, web width monitoring, and DualEdge technology for centerline guiding with a single WideArray edge detector.

Labelexpo Americas 2018 attendees who visit the BST North America booth will conclude that whenever labels or packaging are printed, or production parameters measured and quality controlled, these jobs are expertly handled by solutions offered by BST North America and its subsidiary AccuWeb.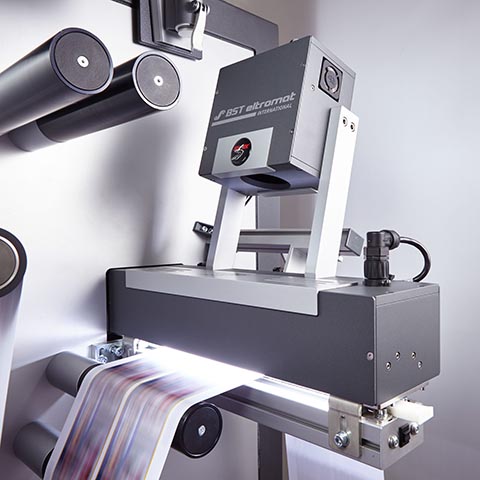 Shark LEX systems recognize 100% print defects in real time and are known for their simple operation and reliably high performance.