K-Group focused on modern technologies for quality print production

Manchester, UK – JM Heaford, industry-leading supplier of proofing and mounting solutions for the labels, flexible packaging, corrugated and decorative markets, has appointed the K-Group of Companies as its exclusive agent in Pakistan. The agreement follows a steady increase in sales enquiries from the country and reflects a growing demand for quality flexographic production.

Founded in 1997, the K-Group now has a team of six sales engineers and five service engineers and is well-established in Pakistan as the supplier of many leading technologies in the gravure and flexographic industries. These include systems from Windmöller & Hölscher, MPS Systems, Jkampf, Garant-Maschinen, NGR (Next Generation Recycling), AciGraf and Zecher. In the new agreement, K-Group will supply Heaford proofers for Pakistan's rotogravure-dominant market and mounters for its growing flexographic market.

According to Kafil Shaikh, CEO and Director of the K-Group of Companies, JM Heaford is a perfect fit for the company's portfolio, "We're focused on representing the world's most renowned manufacturers of reliable and well-engineered machines in order to bring modern technologies, capabilities and a greater competitiveness to local and multinational companies located in Pakistan. We've done extensive research and there's no doubt that Heaford is the brand of quality in mounting and proofing."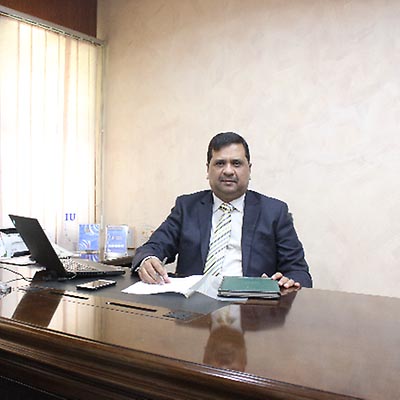 Kafil Shaikh, CEO and Director of the K-Group of Companies.
The Heaford mid- and wide-range of CM+ moving camera mounters are expected to be especially popular within K-Group's target markets. Covering all common sleeve widths from 1300 – 1800 mm (51 – 70.9 inches) and with a repeat range of 1130 up to 1400mm (44 – 55 inches), they feature a cantilevered mandrel design for fast loading and unloading. Two 100x magnification motorised cameras with position-control electric drives allow for easy set-up and quick adjustments via on screen icons where multiple positions can be set manually, taught or imported and stored, providing for a mounting accuracy of up to 10 microns.

Shaikh believes the trend towards flexography is accelerating due to the increased availability of high-quality materials and equipment, but that there is widespread need for better information and education. "The industry is at a crucial stage currently," he says. "If print providers make the wrong choices when first engaging with flexo production, it could jeopardise their whole operation. We aim to provide our customers with timely insight, advice and the very best quality equipment so that their move into flexo is a success. We won't be satisfied until Pakistan is a centre of flexo excellence!"

Having engaged K-Group's services after initial meetings at the 3P Pakistan trade show in March, Graham Harrison, International Sales Manager at JM Heaford feels very positive about Heaford's opportunities for growth in the country: "I see great potential within the Pakistani market as the country continues to invest in the flexographic printing sector. We identified K-Group as the ideal partner to support this growth through their commitment to investing time and expertise in helping customers become efficient and competitive producers of high-quality flexographic print."