Trend towards smaller and mid-sized order volumes continues.
Personalized print marketing is currently experiencing a true revival. This is tied to the trend towards more personalized, smaller and mid-sized order volumes. And as so often, Japanese companies are proving to be trendsetters. When W+D unveiled its W+D 410 Easy Enveloper for envelope production at drupa 2016, not one but two Japanese companies opted for the machine, which not only meets the highest quality standards, but is also easy to operate, handling changeovers with extreme flexibility and speed. The result: both companies have been able to open up new sales opportunities and are delighted with the Easy Enveloper. To date a total of 12 W+D 410 Easy Envelopers have been sold with 8 running in North America
On the Japanese market for envelope production, shorter runs have long been the norm, increasing the importance of a relatively short changeover time. Extremely high quality requirements up to 100-percent control also apply in Japan. As a rule, papers processed are significantly thinner and a great deal of importance is placed on elegant effect and sophisticated haptics, that going for surface finish as well.
Highest quality and 40 % time saving through complete cut technology
The integrated quality control of the W+D 410 Easy Enveloper was particularly well received by the Japanese. The corresponding functionalities for high precision and control are integrated in the machine right from the start and do not require costly retrofitting. "The machine also processes coated papers commonly used in Japan much better than others. When considering the top-quality requirements, the Easy Enveloper fit perfectly into our two customers' portfolios," explains Yoshinori Sato of DKSH, W+D's sales partner in Japan.
While the Easy Enveloper can use pre-cut high die envelope blanks it does not require any additional equipment such as a separate PHP operation as it also can do a complete-cut of the envelope shape as well as a window in line from a rectangular blank. The elimination of the additional production step of pre-cutting envelope blanks will reduce cost, improve fold to cut accuracy and reduce throughput times by 40 percent.
Converting up to 40 % faster
Another critical point has been that the W+D 410 Easy Enveloper makes the production of high-quality envelopes particularly easy when it comes to operation. Neither company has needed to provide any special operator training. Instead, employees – and in one case a female employee, which is very unusual in Japan – were able to operate the machine after a short training period. The revised, newly designed cutting and folding stations require virtually no tools to make modifications and change formats.
Operators are supported at every step by automated processes and modern touchscreen technology with intuitive operation as well as extensive help menus and step-by-step instructions for setting and changing the machine.
This has enabled both customers to reduce changeover times by 20 to 40 percent compared to other machines with comparable envelope sizes and to open up new sales opportunities thanks to the machine flexibility. Overall, the average production volume in both companies per shift is 150,000 to 180,000 envelopes.
Waste rate of less than 2% thanks to high precision
Since the paper used in Japan is so expensive, the low waste rate of the Easy Enveloper due to its precise material processing is of particular interest. For example, new "flippers" on the machine prevent envelopes from sticking to the window cut-out, which reduces waste.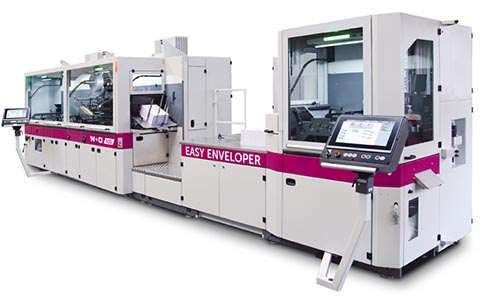 "The W+D 410 Easy Enveloper is simply the best machine for the demanding Japanese market. It reduces the stress of production with its fast format changeovers and simple operation. Last but not least, the lower waste rate and high product reliability are convincing across the board," concludes Yoshinori Sato.
For more information on the W+D 410 email [email protected] or stop by PRINT18 at booth 1641.