CET Color is very pleased to be able to introduce to you its new Senior Sales Executive, Fred Larson. Fred joined the team August, 13th 2018.
Fred is truly an exceptional find in this industry.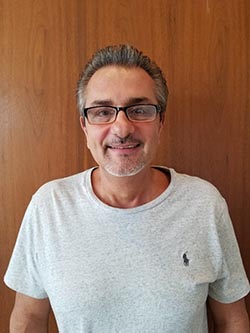 Fred Larson has been in the printing and print related industry his entire career. He has sold and managed sales forces for companies as big as Moore, RR Donnelly and a few other print industry related organizations. Fred has worked with companies as large as Delta Air Lines, Home Depot, Blue Cross Blue Shield of Florida, Virginia, Hanes Brands, Belk Stores, AFLAC, NAPA, National Vision and many more. You won't find many people who know the business from all of the major aspects like Fred does.

On a personal note, Fred has three children, two in the professional world and one at Kennesaw State University. Fred Played quarterback at the University of Buffalo where he earned a degree in business management. As a volunteer, Fred has coached both football and basketball at the youth and middle school level for many years and remains active as a volunteer.
In his new position, Fred will be a liaison to both old and new customers, He is a real people person, he looks forward to getting to know all of our customers.
Please feel to give Fred a call at 404-341-7768 ext 403 for any questions or concerns.
I'm sure you'll join me in welcoming Fred personally the next time you come in for a Demo or see him at a Trade show.

As always please feel free to reach out to me with any questions or concerns—Bill Barnes, Director of Operations – CET COLOR, [email protected].