Brookfield, Wis. – Versa-Tags Inc., a print provider for the specialty advertising market, installed two Colordyne 3600 Series AQ - Retrofits at its Cuba, Missouri-based facility to expand its product offerings and enhance turnaround times. The company is using its digital retrofit print engines to produce full color promotional tags and pressure sensitive labels while exploring new applications that require digital print capabilities.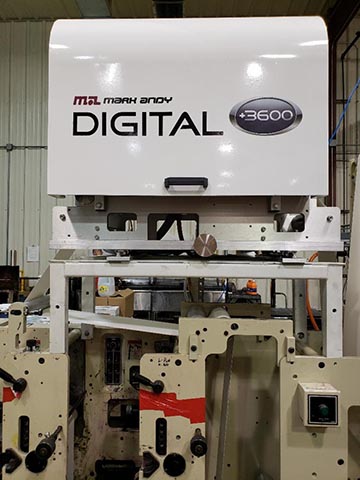 Colordyne 3600 Series AQ - Retrofit, also referred to as the Mark Andy Digital +3600.
Versa-Tags owns and operates a variety of printing equipment to provide the specialty advertising market with custom tags, decals, labels, plastic signage and other promotional materials. The company's primary focus is in the automotive industry, supplying car dealerships with custom printed products like key tags and decals. Versa-Tags manages thousands of different SKUs and serves over 1,000 different customers every year through its distribution network.
Before investing in a full color digital print solution from Colordyne, Versa-Tags relied on flexographic and monochrome digital printing to produce its tags and labels. Due to the cost of plates required for flexographic production, Versa-Tags had to turn away short run or high-mix, low-volume jobs requiring full color printing in roll form.
"Our goal is shipping on time, every time to our customers," said Nathan Garden, Vice President and General Manager of Versa-Tags. "This promise, and our high expectations for customer service, sets us apart from our competition. Installing the 3600 Series AQ - Retrofits from Colordyne allows us to keep this promise to customers and reduce production times to get product out faster."
The Colordyne 3600 Series AQ - Retrofit features a user-friendly computer platform and interface allowing press operators to go from digital artwork to printed material in less time than traditional printing methods. The 3600 Series AQ - Retrofit prints at 275 feet per minute in its highest resolution mode, 1600 by 1375 dpi. The digital inkjet print engine uses a dedicated printhead for each color channel, CMYK plus an optional spot color, to deliver vivid, high resolution images.
"When looking to add full color digital equipment, we knew we wanted a retrofit solution," said Garden. "Retrofitting provided us with the CMYK short run and variable data capabilities at the price point we were looking for. This included not wanting to pay for additional finishing we already had in our pressroom."
The 3600 Series AQ - Retrofit allows Versa-Tags to take advantage of its existing tooling and finishing equipment in-line by mounting on top of an existing flexo press in its facility. With digital print capabilities, Versa-Tags is taking on jobs it could not before, like variable data and barcoding. The company can challenge themselves with a new range of applications and customer requests.
"The ROI on this equipment isn't just a dollar figure for us," said Garden. "It is bringing us new customers that can grow within our business, on both the digital press and our other equipment."