Former competitors QuadTech, Web Printing Controls, PC Industries combine products, expertise, engineering talent

St. Louis, Mo. – BALDWIN Vision Systems, a business division of BALDWIN Technology Company Inc., held a ribbon-cutting ceremony and grand opening celebration at its new headquarters on Tuesday, July 24. The new office is located at 2900 Swenson Drive, Waukesha, Wisconsin, USA. The city of Waukesha is located just outside the western suburbs of Milwaukee, with fast access to Mitchell International Airport and the smaller Waukesha County Airport.
BALDWIN's Vision Systems division designs and manufactures advanced control technology for the printing industry, specializing in automated color management and defect management solutions. In December of 2017, BALDWIN Technology Company formed the new business division by acquiring the products and expertise of QuadTech, Web Printing Controls, and PC Industries. By combining the three businesses, BALDWIN is able to offer and support the industry's most comprehensive automation portfolio to printers worldwide.
As BALDWIN Vision Systems' global headquarters, the new Waukesha office houses the division's administrative, engineering, executive leadership, marketing, sales, and customer support teams—including a 24/7/365 service Help Desk. In addition to the Waukesha headquarters, the new Vision Systems business division has regional offices located in Amsterdam, Gandhinagar, Shanghai and Tokyo. Sales and service teams are strategically located throughout the world, while manufacturing facilities have been consolidated at the Fairfield, Illinois (USA) location.
BALDWIN Technology Company President Brent Becker addressed employees at the event: "It can't be underestimated how much hard work went into this. QuadTech, PCI, WPC together have been solidified into BALDWIN Vision Systems, and the team has really rallied around that. We were competitors before, now teammates with a common goal and a common message. One team, one focus. To make that switch is not always easy, and I've seen this team do it better than I've ever seen anyone else do it in my career. The family of BALDWIN is very excited that we're part of this, and that we have arrived at this day—in this location and at our new manufacturing facility in Fairfield. We're excited about the future we have together, and we're well-positioned to move forward with the strategies we've been talking about for the last five months."
Karl Fritchen, President of BALDWIN Vision Systems, commented: "By combining engineering talent and expertise, and with the infusion of more financial resources, we are poised to make a significant impact on printers' bottom lines, and their ability to connect data and workflows to automate their processes. It's an exciting time for us, our customers, and the wider industry!"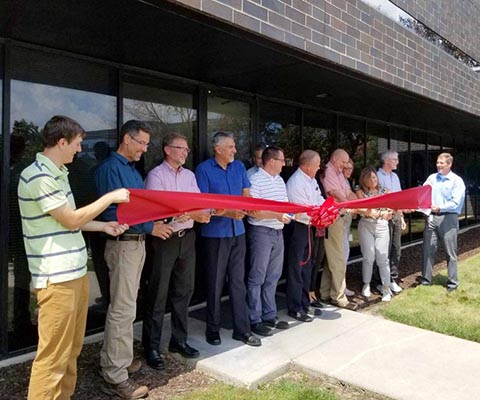 Long-term employees join for the ribbon-cutting ceremony at BALDWIN Vision Systems' new Waukesha headquarters.