Booth 540 presents exclusive introduction of extended planning and imposition capabilities for commercial printers
Ottawa, Canada – At Print 18 (September 30 – October 2), Tilia Labs, a leading developer of planning, imposition, and automation software solutions for the graphic arts industries, is offering an exclusive preview of advanced Phoenix features developed for the full range of commercial print production. For the first time in the US, booth 540 will demonstrate new powers from tilia Phoenix in folding and binding for sheet-and web-fed production including books, brochures and catalogues.

The Print 18 sneak preview of Tilia Labs' forthcoming Phoenix 7.0 release focuses primarily on automated postpress planning and imposition. By extending the benefits of the solution to encompass the breadth of folding, binding, stitching, and cut and stack processes, Tilia Labs is responding to demand from customers and technology partners.

"We have many commercial print providers already experiencing massive savings in time and consumables through using Phoenix for intelligent planning and imposition of printing, cutting and stacking processes," comments Sagen de Jonge, CEO of Tilia Labs. "Folding, stitching and binding was the missing piece of the puzzle. The developments in Phoenix 7.0 close the loop in commercial production."

New at Print 18 – Phoenix features for commercial printers
Included among the highlights for high-speed automated planning of folded and bound products are:
Folding pattern library – featuring standard folding patterns such as common JDF formats
Custom folding – ability to create bespoke customized folding patterns via an easy and intuitive graphical interface
Intelligent product ganging – products dynamically grouped to support book binding and assembly
Optimized lane-based planning for web presses
Support for no print regions and gutters
Flexible grouping rules using custom properties for layouts and strips/lanes
New at Print 18 – Phoenix features for wide/large format
The Tilila Labs team will preview additional performance improvements specifically made for wide formats in the imminent release of Phoenix 7.0. These include:
Advanced artwork tiling – multiple options for controlling tile sizes, placement order, overlaps, gaps, glue areas, and more.
Extended support for finishing devices with addition of ZCC output for Zund systems as well as DXF CAD output for many different devices
The new tilia Phoenix version 7.0 will also incorporate significant performance enhancements to the Imposition AI engine which forms the power core of the Phoenix solution. Data processing capable of keeping up with the fastest presses on the market complements recent improvements to template-based planning and optimizations for large sheets and rolls. These enhancements push the speed boundary yet further for Phoenix in searching across millions of combinations to find the most cost-effective layouts within a matter of just minutes.

"We have been working closely with partners and customers worldwide to understand how we can continue to make new technology updates to tilia Phoenix that will deliver measurable performance and efficiency improvements," says de Jonge. "With users across every print sector and in every discipline, it is a multi-strand conversation bringing in a massive range of day-to-day production issues. The new 7.0 features we're previewing at Print 18 represent a huge step change for commercial printers in particular. We're very excited to hear the reactions of visitors to the booth – quite honestly, we think they'll be blown away."

Tilia Labs is offering both ad-hoc and pre-booked one-to-one demonstrations at Print 18. To request a meeting reservation, please contact [email protected].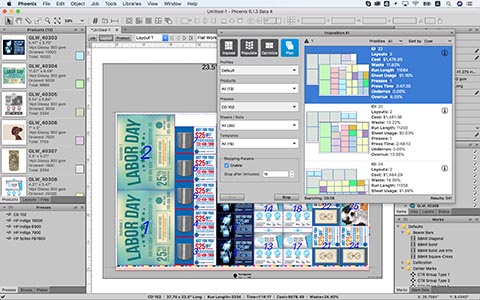 In Booth 540 at PRINT 18, Tilia Labs will present an exclusive introduction of extended planning and imposition capabilities for commercial printers.