Oosterhout – In 2014, printers Druckhaus Ulm-Oberschwaben (DUO) completed a comprehensive renewal program, having invested in four COLORMAN autoprints from Manroland. The very next year saw the start of the search for a reliable and innovative solution for color density control, which DUO has now found in the shape of the IDS-3D system from Q.I. Press Controls (QIPC).
The core business of Druckhaus Ulm-Oberschwaben with its two sites in Ulm and Weingarten is the production of all newspapers and local weeklies published by Neue Pressegesellschaft Ulm and Schwäbisch Media Ravensburg. Working six days a week, the business employs 170 staff in producing an overall print run of 290,000 copies.
Thanks to the high level of automation, only two grams of ink per newspaper are used even now; but for CEO Ernst Jackwert that is still too much. The introduction of 16 IDS-3D cameras from QIPC aims to reduce the ink consumption even more and further automate the production process. "As a modern printing operation, we have to protect the environment by reducing our use of resources on the one hand, and, on the other, using our well-trained staff effectively by automating unnecessary manual tasks," Ernst Jackwert explains.
IDS-3D is the only fully automatic color and damp control system that uses an image-based process with markless measurement and also monitors the quality of the printed image in that way. The digital camera processes the measurement data in real time and uses the digital TIFF image as a reference. By automatically adjusting and optimizing color and water content, IDS-3D achieves reproduction with absolute color stability and significantly contributes to reducing wastage. At the same time, the integrated Automatic Ink Mist Shield (AIMS) feature enables the system to automatically clean the lens when needed. "We are absolutely convinced that in IDS-3D we have chosen the best and most innovative solution, which will play its part in the first-class quality of our products," Ernst Jackwert summarizes.
The QIPC quality management system IQM will also come into use in Ulm and Weingarten from autumn 2018. IQM is a web-based reporting system that logs data relating to register, color density or fan-out that is relevant to product quality and summarizes all nonconformities in a clearly structured production report. Due to the integrated error detection facility, the printer can see precisely how many copies of a particular job did not meet the desired quality standards. In that way, production quality and reliability can be significantly improved.
"We are very pleased that DUO, as a classic Manroland customer, elected to use our systems," observes QIPC Chairman Menno Jansen. "That shows that our automation and optimization solutions help newspaper printers to overcome their economic and qualitative challenges and, therefore, make a contribution to the success of the newspaper product."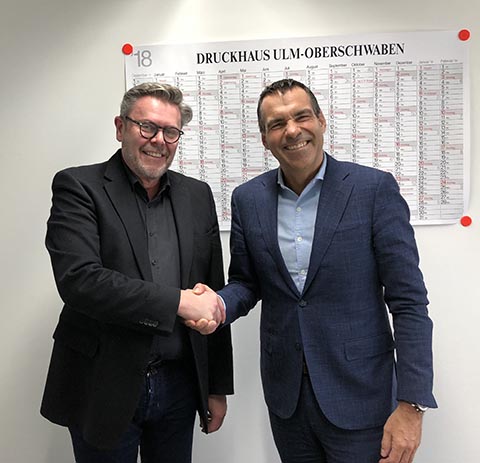 Left to right: Ernst Jackwert (CEO of DUO) and Menno Jansen (Chairman of QIPC).